English WInter Fair 2009
2009-11-12
Organisers of next week's English Winter Fair livestock showcase, Stafford, have invested £40,000 to provide cattle exhibitors with improved cattle stalls ahead of the weekend event on Nov 21-22.
The first load of new cattle stalls costing £40k being unloaded this week ahead of the event's set up.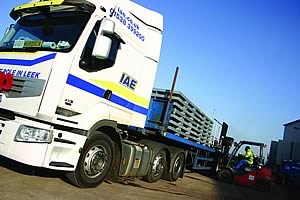 The 100 stalls, manufactured by Cheadle-based livestock equipment specialist AIE, arrived at the English Winter Fair site this week on two articulated lorry loads just in time for showground staff to begin the week-long set-up for the event.
Showground chief executive Richard Williams says the £40,000 is testament to the show organiser's commitment to invest in facilities for exhibitors.
And extra stalling is needed. Entries to this year's event are up significantly after the rebranding of the event in 2008 from its predecessor the National Primestock Show and Sale, reports show secretary Kate Tomlinson.
"We've around 50 extra cattle this year and have seen higher entries across all cattle and sheep sections for both live competitions and in the carcass section," explains Mrs Tomlinson.
While entries for livestock classes have now closed allowing show catalogues to be printed, producers and growers are being encouraged to consider entering produce classes for cereals, fodder and potatoes, and products competitions for pies, pastries, sausage, bacon and gammon made with British Meat. Entries for these classes can be submitted at the show.
Judges getting their teeth stuck into the Products competition at this year's English Winter Fair backed by the British Pig Executive.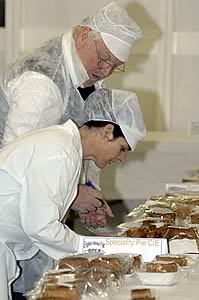 CHEFS, CATERERS AND PRODUCER PROCESSORS CHALLENGED TO MAKE BEST OF BRITISH MEAT

Visitors and judges can expect to feast their eyes on a host of speciality products made with British meat at this year's English Winter Fair.

The British Pig Executive-backed competitive classes are open to all butchers, chefs, retailers (who make their own meat products for sale) including farmer processors to tantalise judges' taste buds in classes for pork pies, hot or cold cutting pies, pork and speciality sausage and home-cured bacon and gammon using British meat.

"We're building on the success of last year's event," says show chairman John Pattinson. "The BPEX- backed competition allows talented cooks to demonstrate the very best of British meat prepared for the consumer. We would encourage all aspiring cooks to demonstrate their skill and enter the classes which remain open up-on-til the morning of judging on Sunday 22nd November."

£1000s UP FOR GRABS AT TOP FARM LIVESTOCK EVENT

Last year's supreme champion from Colin & Wendy Phillips of Sarnsfield, Herefordshire, that picked up a £1000 cheque from feed supplements supplier Zintec.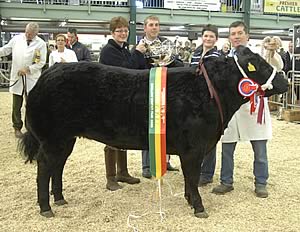 Large cash prizes for farmers exhibiting some of the country's best farm livestock are up for grabs at this year's English Winter Fair.
In the live classes Leominster-based feed supplement supplier Zintec is once again offering £1000 to the EWF's supreme champion with a wealth of other prizes from trade supply companies and leading breed societies.
The event's dedicated on-site Carcass Hall again sees Shrewsbury-based beef processor ABP offer exhibitors a potential prize pool of £3000 for the champion beef carcass; with Demulder & Sons and AF Blakemore & Sons supporting the sheep carcass competitions, and AE Poxon & Sons backing the pig carcass classes.
"We are very grateful for the support of sponsors once again backing the livestock sector. Quality of livestock shown is second to none and again we expect a wonderful display of livestock and stockmanship at this year's event," says show chairman John Pattinson.
Young farmers play a key role in competitions at the event with backing from national marketing body EBLEX. Once again Staffs YFC acts as host to stock-judging competitions on Sunday 22 November which will attract clubs from across the county to compete against local talent.
CATERERS, BUTCHERS, HOTELIERS AND RETAILERS CALLED TO RINGSIDE FOR ANNUAL AUCTION OF CHAMPIONS
Caterers, butchers, hoteliers and retailers are being invited to stand and bid at the ringside of the region's premier winter livestock show to secure some of country's top livestock for year-end food festivals.
The English Winter Fair at Staffs Showground on the weekend on 21-22 November, 2009, hosts the country's leading livestock producers demonstrating their skill in breeding, feeding and showing cattle, sheep, pigs and seasonal poultry in both live and carcass competitions, explains show chairman John Pattinson.
"Quality is second-to-none and we would like to welcome meat buyers from retail, caterering and hospitality sectors to come and secure prize-winners for their customers in what has become a highlight of the English Winter Fair."
Auctioneer Bagshaws of Uttoxeter begin the auction on Sunday 22 November at 2pm starting in the EWF's purpose-built Carcass Hall. Crowds vie for elbow room during the hotly contested competition to secure locally reared turkeys for end of year celebrations.
Championship beef, sheep and pig carcasses are offered thereafter before auctioneers shift attention to winning farm stock from the event's live ring classes including the show's supreme champion beast.
"Meat buyers demonstrate just as much pride in presenting the very best of British meat to their customers as farmers do in preparing livestock for the show's various competitive classes," adds Mr Pattinson.
"The opportunity to secure prize-winning livestock direct from the show ring or Carcass Hall should enhance any year-end celebration where British meat is the focus – and with that in mind – we would welcome meat buyers to the ringside auction on Sunday 22 November."

Community Partnerships are the Key for British Farmers


Sir Ken Morrison Praises Borderway Agri-Expo 2009


Choke Grip on NI Slaughter Cattle Prices Has Many Hands