Fred Triumphs at National Hereford Calf Show
2009-11-04
This year the National Hereford Calf Show was held in conjunction with Borderway Agri-Expo in Carlisle and hosted by the Scottish Hereford Breeders' Association.
Judge Robert Grierson with Panmure 1 Fred, Audrey Anderson
and Heather Pritchard from Borderway Mart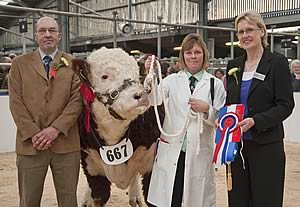 Overall, it was a well attended event, providing a ready made audience for the Calf Show.
Taking on the task of judging the Show was well known Stockman, Robert Grierson of Chapelton, Castle Douglas who was presented with an excellent entry of calves coming from as far South as Kent and Devon and as far North as Tayside.
Both Champions in the Bull and Heifer Calf Section were Scottish bred with Mrs. J.M. Cant & Partners, Tayside, taking the Bull Calf Championship with their Senior Champion 14 month old, Panmure 1 Fred. "Fred" sired by former Royal Highland Champion and 2009 Reserve Sire of the Year, Solpoll 1 Brigadier, is out of Panmure 1 Plum V6.
Grand Female Champion Romany 1 Lucy A84 F26 with Robert Wilson of JRB Wilson & Sons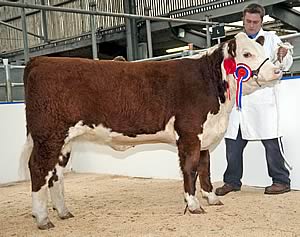 The Heifer Calf Championship went to the Senior Champion,13 month old Romany 1 Lucy A84 F26, sired by Baybridge 1 Atlas and bred & exhibited by J.R.B. Wilson & Sons, Kelso. "Lucy" who has Terminal Sire Index of +30 and a Self Replacing Index of +36 (both EBVs in the top 5% for the Breed) was later sold privately to Mr Goulding from the Republic of Ireland for £5,000.
The Reserve Bull Calf Championship went to the Junior Champion, 9 month old Leos Pride 1 Ellis, sired by RLOA Dynasty, bred & exhibited by D. & B. Ellis of Wigan, Gt. Manchester. "Ellis" has great conformation and a tremendous growth rate, weighing over 500 kg at 9 months of age.
The Reserve Heifer Calf Championship went to Junior Champion, 8 month old Spurstow 1 Fantasia, sired by JSF 60 Marshall 28M, bred & exhibited by H.P. Whittaker, Tarporley, Cheshire.
The Young Handlers' Competition, under 16's section,
was won by Sophie Harvey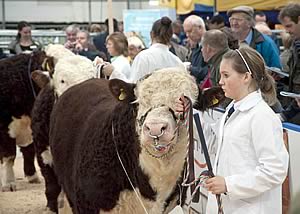 To complete the day's activities, the Young Handlers' Competition resulted in the under 16's being won by Sophie Harvey, Harveybros Herefords, Glasgow. Second was Shona Andrew, Arranview Herefords, Ayr and third, Richard Dent, Cornriggs Herefords, Co. Durham.
In the over 16's section, Melisa Timmis took first place with sister Elaine in second – Shraden Herefords, Baschurch, Shrewsbury, and in third position Will Allman, Greenyards Herefords, Sutton St. Nicholas, Hereford.

National British Blonde Commercial Competition 2009


Choke Grip on NI Slaughter Cattle Prices Has Many Hands


Balmachie Black Bear Reigns Supreme at Aberdeen-Angus Calf Show 2009