Heifers Impress at Well Supported Craven Dairy Auction
2009-10-27
A quality turnout of newly calven heifers – the best seen in several months and among a total entry of 102, the highest for quite some time – impressed a packed ringside at the second October Craven Dairy Auction at Skipton Auction Mart. (Mon, Oct 26)
As the Craven Dairy Auction late October champion takes centre stage, exhibitor Andrew Jennings and his 12-year-old son Stuart are pictured on the right, joined by judge Richard Close, left, and Steve Braithwaite, who presented the BOCM Pauls Craven Dairy Cup.

The first prize newly calven heifer and show champion came from Jennings Farmers Ltd, of Hill House Farm, Fountains, Ripon, whose Abbeyhouse herd is no stranger to Craven Dairy Auction success, having secured the championship on several occasions in past years.

This time around, it was a home-bred pedigree Holstein Friesian, by the Canadian sire Lystel Lorenzo, out of Abbeyhouse Indro Penny, that landed yet another title for Jennings Farmers. Having calved a week before the show and giving 32 litres, she sold for £2,280 to Alan Outram, Bury.

The reserve dairy championship fell to the second prize newly calven heifer from Derek Wells, of Woodlands Farm, Wilsden, which joined Wick Williams, Nantwich, Cheshire, for £1,950. The third in class from John Lancaster, Bordley, sold for £2,150 to John Dodgson, Bank Newton.

However, it was another newly calven heifer from Craven Dairy Auction regular Robert Crisp, of Nelson Farm, Calton, that made top price in show at £2,420 when joining local farmer Kenneth Throup, Silsden.

The first prize newly calven cow came from Malcolm and Robert Swires, of Haverah Park, Beckwithshaw, whose Whinhill Holstein Friesian commercial herd is rarely out of the prizes and holds the record for the most number of championship successes in recent Craven Dairy Auction history.

Their late October first-in-class made £1,900 when purchased by David Houseman, Darley, while the Swires also sent out the third prize newly calven cow, another Kenneth Throup acquisition at £1,920.

The second prize cow from Thomas and Elizabeth Simpson – Libby is Robert Swires' sister - of Red House Farm, Ripon, headed the class prices when sold for £2,080 to Red Rose buyers, T&G Green, Wigan.


John Broadfield with his first and second prize in-calf heifers,
joined by his son Joe's girlfriend Mel Bateson.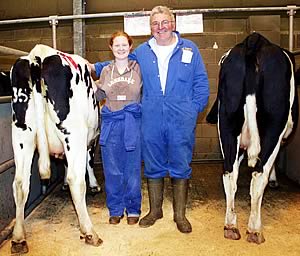 The first and second prize in-calf heifers were exhibited by John Broadfield, of Chidswell Farm, Dewsbury, who was over the moon with his success on what represented his first-ever appearance in an auction mart sales ring at the age of 58.

This was only due to the fact that the farm ceased milk production in April after 53 years in dairying – John took over the operation from his father George, now aged 90 – to concentrate on launching and running Chidswell Farm Shop. First opened in July and already proving a big hit, the business is based on the family farm and is run jointly by John's wife Melanie and son Joe.

Mr Broadfield came to market for the first time with a total of five pedigree in-calf heifers, which would normally have been replacements for the Broadfield dairy herd. His first and second prize winners sold for £1,680 – top price in class – and £1,600 respectively, both to Mark Ashworth, Clitheroe.

Mr Broadfield explained: "I have never sold a heifer in my life. We have always milked them in the past. They did well on the day at Skipton – I chose to sell there because they always let me know what is going on. I am pleased - and happy with the way I was treated. It was a marvellous experience." Mr Broadfield said he had plans to return to the mart to sell further livestock as part of the continuing Chidswell herd dispersal.

The first prize maiden heifer came from Johnny Metcalfe, Linton, sold to show judge Richard Close, Starbotton, for £760. Top price in class at £910 fell to Richard Metcalfe, Brearton, his heifer joining R&K Douglas, Whalley.

A further consignment of British Friesian in-calf heifers from the late John Reynoldson, Skyreholme, sold to a top price of £1,020 and at an overall average of £838, while a consignment of 'heifers run with the bull' from Mrs D Isherwood, Denton, Ilkley, sold to a top of £880 and an average of £798.

Newly calven heifers averaged £1,828, newly calven cows £1,690 and in-calf heifers £1,585. The show was again supported by regular monthly sponsors BOCM Pauls and Farmers & Mercantile.

Haygarth Shearling Pick at Skipton Dalesbred Ram Show


Foulrice Charollais Females Sell to 4,000gns at Skipton


Tomschoice Limousins Excel at Skipton Pedigree Beef Fixture