2009-10-13
It was a fitting end to a great season of Bluefaced Leicester sales, as Carlisle served up a cracking finish, with again some strong trade and bumper crowds. Good strong, well made sheep were in vogue, regardless of type with trade holding up until the very last sheep of the 790 entered went through the ring, underling the credentials of this centre as the premier sale for the breed as a whole.
Topping the day's trade at 6800gns was this
Middle Dukesfield lamb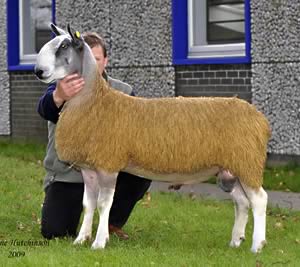 The buoyant trade saw the averages massively boosted on the year, with the tup lambs levelling at £775.54 for a whopping 148 more sold, and increase of £282 on the year, and the shearling tups were up £189 for an extra 44 sold at £633.59, reflecting the strength of the sheep industry at the moment.
Topping the day's trade was a traditional type of tup lamb from Alec & Claire Bisset, Middle Dukesfield. The lamb, which was male champion at the Great Yorkshire show earlier in the year, stood third in a strong pre-sale show.
This sharp lamb, with a superb head and confirmation, is by X6 Clennel bought out of Kelso in 2005 and out of a ewe by X9 Walton and it was obvious all day he was going to be in the money. The bidding started at 3000gns and fired quickly upwards, with the hammer falling at 6800gns, selling to Sophie Harding of the Shrewbridge flock and Tudor Harris, Redlands. This is a top price for the Hexham based breeder in nearly 40 years of breeding Leicester's, and one of his best lambs to date, he says, from his 40 strong flock.
Close behind was another familiar name in the breed. Jack Lawson from the Hundith flock near Cockermouth, who had a good trade at Hawes the previous week, again had a good trade with a Y1 Midlock lamb which sold to WM Hutchinson & son, Redgate and T France, Pleasant for 6500gns. The reputation and style of these Y1 Midlock sons just seems to be growing at every sale, and putting down a real marker for the breed.
It was a good day at the sale for T Armstrong from the Broomhills flock. He just keeps 6 ewes but produced the goods on the day to rival any flock. His pen leader sold in a four way split to Marcus & Ted Williams (Lower Down), Helen Whittle (Edgton), Tudor Harris (Redlands) and Martin Archer (Carry House) for 6000gns. He is a son of A1 Street which was bought last year as a lamb for £250, which seems a good return for the investment. Not only was he siring this lamb he was also sire to the champion, again from the Broomhill flock. This sweet lamb, out of a Y1 Hazelwood ewe sold for 1400gns to R Scott.
Welsh breeders have been having a good season at the sales and this sale was no exception. Once again it was the Tan House flock flying the Welsh flag as they served up another treat. He was by the £3000 A3 Old Hemley, which was res champion at Hawes last year, going back to the Y1 Midlock and out of a ewe by W11 Shafthill. He was sold over the water into Northern Ireland in a 2 way split to Robert Loughbridge, Orravale and Seamus Laverty, Orra View for 5900gns. The last consignment into the ring was from noted Welsh breeder GT Davies of the Ty-Gwyn flock, who was one of the first Welsh breeder to use the Leicester for crossing around 30 years ago, and he had his best trade at Carlisle to date selling his top lamb to messrs Cunningham, Parkgatestone for £4500 and another for £3000 to James Porter, Riddings. Both lambs were by A1 Ty-Gwyn, a homebred tup lamb and out of ewes by W22 Midlock, again going back to the £17,000 Bull & Cave, and in total sold 10 lambs to average £1380.
Midlock have built a great reputation over the last few years in the Blue circles and again they were in the money, selling a big powerful Controversy son out of a V3 Bull & Cave daughter for £5500 to messrs Abberley, Old Hemley. They sold seven lambs to average out at £2093.
Other top prices included a bid of £5000 for a tup lamb from JT & J James, Todhills, selling in a two way spilt of WA Dinsdale, Harkerside and RA Busby Harland.
Ashley Caton, Otterburn Lodge bought a V3 Bull & Cave son from Harry Gass, Nunscleugh.
In the female section it was the Champion and reserve Supreme Champion from Sophie Harding which was making the headlines. The Shrewbridge flock was having a reduction, selling 59 females averaging out at £493. Their champion was an outstanding ewe by W3 Plas-yWard E+ and sold for £1300 to D Parry, Nant Y Glyd, Dolwen.
It has been a good sale season for the Blue Faced Leicester's, with some cracking sales at many centres, and a strong demand for the middle of the market type of sheep, which has lifted the trader considerably on the year, combined with a heavy demand for the ever popular mule gimmer. Buyers and sellers have been keen to buy into good bloodlines but are taking increasingly greater attention to carcase and confirmation of the tups they buy, which can only be a good thing for the whole British sheep industry as the breed has such a vast influence throughout the country's flocks.
Averages:
128 Shearling Rams £633.59
13 Aged Rams £341.54
358 Lamb Rams £775.54 10 Ewes £655.00
14 Shearling Gimmers £348.21
16 Ewe Lambs £429.38
Shrewbridge Reduction Sale:
38 Ewes £570.79
20 Shearling Gimmers £363.50

Skipton Hampshire Downs Peak at 650gns


Down Shep! Dog Handling Course for Shepherds


NSA Sheep 2010 - Three Counties Show Ground