2009-10-06
Hampshire Downs met a firm demand peaking at 650gns at the breed association's official northern region show and sale at Skipton on Friday 2 October.
The day's champion and leader at 650gns, a shearling ram from the Jones family's Maes-Glas flock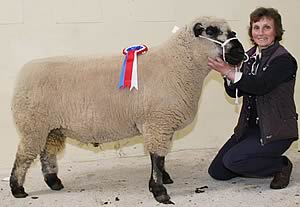 Sale leader at 650gns was a shearling ram by Yarcombe Gossip and out of a homebred ewe from Barry, Eirlys and Stuart Jones' Maes-Glas flock based at Wolfcastle, Haverfordwest. The ram who collected the day's overall championship was no stranger to the ring having won a string of tickets this season including reserve male at the Royal Highland. He was knocked down sold to breed newcomer, Michael Ratcliffe, High Casterton, Kirkby Lonsdale.

The strong female trade was headed at 640gns by a shearling by Melkett Fusilier from Charles and Sally Horrell, Thorney, Peterborough to S and L Sawyer for their new flock based at Tattenhall, Chester. A first prize winning shearling by the homebred Pode Hole Cavalier from the same vendors made 540gns to another breed newcomer, Geoff Mountain, North Righton, Harrogate, while another Pode Hole bred shearling by Fusilier was secured for 490gns by RI Barrow, Dunnerdale, South Cumbria.

Mr Mountain took home 10 lots in total including the top ewe lamb at 460gns from Tim and Judith Hunter, Fotherby, Louth. Sired by Parkstock Warrior, she was out of a ewe by Redhouse Xanthic. He purchased two more same way sired ewes lambs from the Hunters at 390gns and 380gns. Finally, the same purchaser went to 500gns for a shearling ram by Kelsey Duke from Mr and Mrs Jim Birkwood, North Thoresby, Grimsby.

The Jones family were also among the leading shearling ewes. At 500gns they sold a Maes-Glas Jericho sired entry to JGE Heseltine and Son, Bolton Abbey, Skipton while another, this time by Maes-Glas Marino commanded a 460gns bid from J Galbraith and Son, Endmoor, Kendal.

Averages: one aged ewe £273; 14 shearling ewes £405.38; seven ewe lambs £345.45; three rams £514.50.

Down Shep! Dog Handling Course for Shepherds


NSA Sheep 2010 - Three Counties Show Ground


Ritchey Autotagger a Hit with French Farmers