Countryside Live - Successful Show for Seventh Year
2009-10-26
New attractions and record entries in the competitive classes ensured the seventh Countryside Live was a huge success, said organisers, the Yorkshire Agricultural Society. Attendance through the gate was 10,014 compared with last year's record breaking figure of 10,127.
Philip and Sharon Sellers with "Dick Turpin", their British Blue steer which won the Supreme Championship at Countryside Live 2009.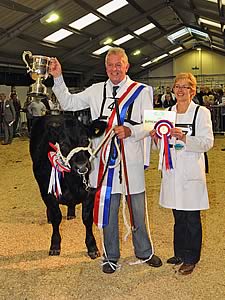 Honorary Show Director, Bill Cowling, said: "Despite the poor weather, visitors were arriving in force from when the gates opened, and the quality and quantity of competitive entries has been second to none. The standard of livestock was absolutely marvellous. It is vital that traditional country shows continue, they provide a focal point for the rural community to come together and celebrate British farming and the countryside."

For the third year running Philip and Sharon Sellers of Belper, Derbys. took the supreme beef championship title. Their British Blue steer, Dick Turpin, won the top award, which was presented by Lady Halifax, Patron of the Show. Reserve was Elfed Williams' Limousin heifer, from Brecon, Powys which now goes on to the Welsh Winter Fair.

The title for the supreme championship for a pair butcher's lamb was taken by Andrew and Becky Bishop of Gloucester with their home-reared Beltexes, and the championship for the best single butcher's lamb stayed in the county with Hannah Brown and Pippa Stirk of Bedale, North Yorkshire taking the honours with a Beltex cross.

Sam Hodgson of Patrick Brompton near Bedale, won the Young Handler's Sheep Championship, with Henry Bulmer of Kirbymoorside, Malton winning the beef section.

Taking the honours in the Working Hunter Pony Championship was 11-year-old Olivia Lyall, from Whitby. She was riding her mother's pony, Heslington Goody Tiptoes. Jade Hind of Middlesbrough was Supreme Champion in the Ridden Coloured Horse or Pony Championship on Diamond Onyx, a 15-year-old mare who also won the title at last year's Countryside Live. The Open Ridden Mountain and Moorland Champion was Skyline Ranger, a Connemara gelding owned by Barbara Butterworth of Appleby, Cumbria.

Emma Boardman of Forton, Lancaster took the Open Mountain & Moorland Championship with a 6 year old Exmoor stallion, Phi. Owned by Mrs Susan Rawsthorn of Grange over Sands, he already has a string of awards, including the championship awards at both the 2008 and 2009 Great Yorkshire Shows.

Doncaster beekeeper Dave Shannon took the Yorkshire Herald Cup in the Honey Show, while the Supreme Championship went to Mrs Kath Brown of Wakefield.

In the Poultry Show the champion, a Blue Furnace Old English Game bantam, was shown by Peter Watkinson of Hesketh Bank, near Preston, Lancs, a previous champion at Countryside Live. Supreme Champion honours in the Fancy Pigeon section of the Pigeon Show went to Keith and Gill Robson of Hurworth, Darlington, with a genuine home adult cock, while Best Show Racer went to Colin Bullird of Loweston, Suffolk, with a checker hen.

Also proving hugely popular were showjumping masterclasses by former Olympic showjumper, Graham Fletcher and sheepdog trial demonstrations. The children Country Crafts Experience was extremely busy too, with hundreds of children enjoying a range of activities including bread making, face painting and learning about recycling waste.

Charolais Establish New Stirling £5,687 Record Average


Aberdeen-Angus Prices Soar at Stirling


Strong Limousin Trade at Stirling