Limousins Set All-Breeds Record at Carlisle
2009-10-20
The British Limousin Cattle Society Autumn Bull Show & Sale held 16th-17th October 2009 at Borderway Mart, Carlisle saw a high quality show resulting in 143 bulls selling at an all-breeds centre record average of £5735, surpassing the mark set at the Limousin Sale in February this year.
Wilodge Dallaglio - 30,000gns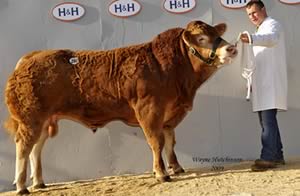 Leading the way was the 30,000gns Wilodge Dallaglio from Miss C Williams, Lodge Hill Farm, Park Lane, Shifnal, Shrops, this being the fifth animal sold by the prolific Wilodge Herd at 30,000gns or more.
Ringside opinion held this as one of the strongest shows of Limousin bulls seen at an October Sale with the quality bar again raised by the breed. Forward were bulls with shape, size, width and length suitable for all markets - pedigree or commercial. A strong, deep trade saw 14 bulls over five figures and 48 bulls at 5,000gns or more. Junior bulls averaged £6164 and the sale grossed a mighty £820,000.

Buying the top-priced Wilodge Dallaglio - who had stood as Reserve Junior & Reserve Supreme Champion in the pre-sale Show judged by Mr Bob Adam, Newhouse of Glamis, Forfar, Angus - were joint purchasers KD Harryman, Keskadale Farming, Newlands Valley, Keswick, Cumbria together with Messrs M&W Richardson, Gatesgarth Farm, Buttermere, Cockermouth, Cumbria who run the Keskadale and Honister pedigree herds respectively. The Keskadale Herd comprises 100 pedigree animals alongside 40 commercial heifers and 25 commercial cows – the latter used for breeding show calves. Immediate plans are for the bull to settle a few cows and then go for semen collection at the Cogent Stud.
Commenting on their purchase, Mark Harryman said: "Dallaglio is a bull of outstanding quality, full of muscle with plenty of style, good mobility and thickness right through – a true modern Limousin." As well as the bull's visual appeal, the purchasers admired his back pedigree which comprised Oxygene, Cloughhead Lord and Ronick Luke. Bred by Christine Williams, Wilodge Dallaglio is an embryo calf by the prolific 42,000gns Wilodge Vantastic and out of the dam Sarkley Bellola, purchased as a maiden heifer in 2007 for 24,000gns. July 2008 born, this fifteen month old bull was one of the youngest in the catalogue. Much admired, he had collected the Overall Male Limousin Championship and Elite Beefbreeder titles at the 2009 Royal Welsh Show. Here, Dallagio followed the eventual Champion, Kaprico Davelle, right through the classes to gain the Reserve Overall & Junior Championships with Judge, Mr Adam, praising his exceptional width and muscling.

Second leading price at 27,000gns was Greenwell Dreamboy consigned by JT & J Nattress & Son, Greenwell Farm, Lanchester, Co Durham. A first prize winner carrying a Beef Value of LM+30, this April 2008 born bull is sired by Vagabond, sire of the 12,000gns Greenwell Caspian (Carlisle Feb 2009), and out of the Greenwell Alisha who goes back to Greenwell Jive, a daughter of Greenwell Fiona, the dam of the noted Greenwell Major. The sire, Vagabond, won the Best Stockbull & Progeny categories in the 2008 NE Herd Competition. The Greenwell Herd, which also won Best Overall Herd that year, comprises 50 pedigree cows and their previous best at sale was the 18,000gns Greenwell Ronick. Ian Nattress said: "Dreamboy is an outstanding Limousin bull with good legs and who carries his weight well having done 1.8kg/day from birth. He has tremendous length, width and masculinity and I feel sure will make a great stock bull."
For what was their first major purchase outside France, Daf Griffiths on behalf of the noted Mynach Herd of ED Griffiths & Co, Cilgryman Fawr, Cwmfelin-Mynach, Carmarthen added: "This bull had great stature, style, length of back, mobility and a fantastically quiet temperament. We've been coming to Carlisle since 1996 and this is the first bull we've bought here. He ticked all the right boxes for the type of bulls we're looking to produce and comes from an accredited free high-health herd." The Griffiths plan to use Greenwell Dreamboy across Rhonllwyn Vandal and Sable daughters from the beginning of next year.

At the 20,000gns mark was Procters Duvalier, a son of the 100,000gns Haltcliffe Vermount and out of Procters Vabrielle when going under the hammer to Paul Dawes, Kipperknowle Farm, Dinmore Manor Estate, Dinmore, Hereford who runs the Dinmore pedigree herd which comprises of 60 pedigree females. Having stood Reserve Intermediate Champion, Duvalier sports a Beef Value of LM+31 and is full brother to the 22,000gns Procters Commander who sold in the corresponding sale in 2008. "We really liked his muscularity; he's very stylish and a good mover and we plan to use him mainly on our Wilodge Tonka daughters from this autumn and during next spring," said Richard Bartle. Consignors were Procters Farm Ltd, Woodhouse Lane, Slaidburn, Clitheroe, Lancs who also sold Procters Drogba, a Greenwell Ronick son and out of Procters Udettie sporting a Beef Value of LM+35 for 13,000gns to DR Owen & Son, Sandilands Farm, Tywyn, Gwynedd. Capping a fine show day, the Procters team of Procters Duvalier, Procters Deloitte and Procters Domino combined to win the prestigious Carlisle Three Award sponsored by Stanford Livestock, Igenity and the British Limousin Cattle Society with this trio of Haltcliffe Vermount sons. Procters Deloitte, the Reserve Senior Champion, and Procters Domino both went on to sell for 9,000gns to Booilshuggel Farms, East Baldinn, Isle of Man and Messrs Mackay, Home Farm, Aberlour, Banffshire respectively.


The 18,000gns Junior & Supreme Champion, Kaprico Davelle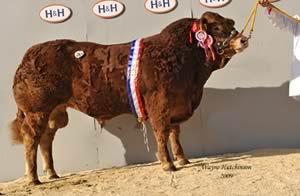 The 18,000gns Junior & Supreme Champion, Kaprico Davelle, was presented by AK & C Stafford, Stanford Drive, Houghton-Le-Spring, Tyne & Wear. This represented the top price at sale to date for the Kaprico Herd which comprises just 6 breeding females but already has a Royal Show & Burke Trophy Champion to its name in the shape of the 2006 winner, Kaprico Ultimate. The herd was established in 1991 with the purchase of the foundation female, Stackhouse Bretelle, an exceptional breeder from an easy calving line, and the great granddam of Kaprico Davelle. A clearly delighted Carole Stafford commented: "Although I rated this bull calf very highly, I never expected to win the Championship here. He has great length and muscling and is from an exceptionally easy calving dam line. His half brother, Kaprico Atlas, is the top scoring Signet bull with a calving value of LM+10C and I was really pleased that Breconside Farming Partnership sold two Atlas sons at 8,000gns & 6,500gns today." The youngest bull in the sale, Kaprico Davelle has a Beef Value of LM+23 and is sired by the noted Wilodge Tonka and out the Greensons Gigolo daughter, Kaprico Ravelle. He was first spotted back in 2008 by eventual purchaser Mr John Logan, Humebyres Farm, Kelso, Roxburghshire when judging the North East Herd Competition where the Kaprico Herd won the Small Herd Competition for the sixth time.

Loosebeare Diver was next best at 15,000gns. Brought out by EW Quick & Sons, Loosebeare Manor, Zeal Monachorum, Crediton, Devon this Intermediate Champion bull made the long journey back to the South West for new owners Mr & Mrs DK Wheeler, Goodiford Mill, Kentisbeare, Cullompton, Devon for their Rosecroft pedigree herd. Carrying a Beef Value of LM+42, Diver is a bull with great shape, power, clean lines and a true Limousin type according to seller Mark Quick, and is the first son of the 11,000gns Haltcliffe Anzac (purchased February 2007) to come onto the market at Carlisle. Anzac is by the prolific French sire, Sympa, and full brother to the 2004 ILC Reserve Female Champion, Haltcliffe Upperity. Loosebeare Diver is April 2008 born and out of the Strathallan Diplomat daughter, Loosebeare Tolly. The 15,000gns price tag represented the leading price at sale to date for the Quicks' 90 strong female herd which also sold Loosebeare Dylan for 5,500gns to average £10,762 for their two bulls.

Another at 15,000gns was the leading price from N Ireland breeders WJ & J McKay, Kilrea Rd, Upperlands, Maghera, Co Derry with their red ticket winning bull, Ampertaine Director. The McKays later sold Ampertaine Dictator for 8,500gns to Mr R Chadwick, Cronk Breck Farm, Greeba, Isle of Man. May 2008 born, Ampertaine Director is a Sympa son and out of the Nenuphar daughter, Ampertaine Vanessa. Purchasers were prolific show calf producers E Jones & Daughter, Coedmore Hall, Cellan, Lampeter, Dyfed. Emily Jones, Coedmore Lodge, Lampeter, Dyfed then bought Gunnerfleet Danny at the 12,000gns mark. Sired by Tunnelby Monkeytricks and out of the Broadmeadows Cannon daughter, Gunnerfleet Ugenie, seller was J Handley, Gunnerfleet Farm, Ingleton, Via Carnforth.
Two bulls made 14,000gns. First of these was Hudscales Darren, a Gunnerfleet Talker son and out of the Ronick Iceman daughter, Hudscales Usabelle. Consigned on behalf of W&A Cowx, Hudscales, Hesket New Market, Wigton, Cumbria, this February 2008 born senior bull carries a Beef Value of LM+33 placing him squarely in the Top 1% of breed. He heads to the Mclarens pedigree herd of W McLaren, Muirhouses, Kirriemuir, Angus. Also at 14,000gns was Pembridge Delboy from Marston Court Farm, Marston Court, Pembridge, Leominster, Hereford when knocked down to commercial producers Page Brothers, Lodge Farm, Elkington, Northampton. Pembridge Delboy is a March 2008 AI son of Cloughhead Umpire and out of the Ronick Hawk daughter, Pembridge Alexis. This represented Roger Williams' best performance at sale to date with two other bulls making 3,500gns and 2,500gns apiece.

13,000gns was the price achieved by a further two bulls. The first prizewinning Coachhouse Duke from Messrs Heald & Co, Home Farm, Grove, Retford, Notts was snapped up by ES & E Norman, Little Orton Farm, Little Orton, Carlisle, Cumbria for their Norman pedigree herd. Sired by Bailea Ulsterman, Duke is out of the Greenwell Major granddaughter, Coachhouse Tara and has a Beef Value of LM+38. The Healds also sold another red ticket winning Ulsterman son, Coachhouse Douglas, for 9,000gns to G & W Halliday, Crawthat, Tundergarth, Lockerbie, Dumfriesshire.
Again at 13,000gns was Sarkley Dynamic when purchased by J Gordon & Co, Waterside Farm, Bridge of Alford, Aberdeenshire. Sarkley Dynamic was brought out by EH Pennie & Son, Gwern-Yr-Ychain, Llandyssil, Montgomery, Powys and is an AI son of Fieldson Alfy and out of the Mas du Clo daughter, Sarkley Vollyjen, whose dam bred the 15,000gns Sarkley Tribute (Carlisle May 2004) and Sarkley Unrivalled (17,000gns Champion Carlisle May 2005). The Sarkley Herd also realized a second five-figure sum for the 10,500gns Sarkley Cossack , by the French sire Objat and out of Sarkley Sallie, when purchased by JW & ME Fieldson, Poplar Farm, Corringham, Gainsborough, Lincs.
Homebyres Dixon consigned by Messrs John Logan, Humebyres, Kelso, Roxburghshire saw a final bid of 10,500gns from AJ Mason, Oddacres Farm, Embsay, Skipton, N.Yorkshire. Sired by the homebred bull, Homebyres Vanhee, a Balnacraig Supreme son, he is out of the Sarkley Pepsi daughter, Homebyres Topaz and carries a Beef Value of LM+38. The final bull at five figures or more was Glenrock Dictator from S&H Illingworth, Howgillside, Eaglesfield, Lockerbie with JN Swinbank, Cold Comfort Farm, Neasham, Darlington, Co.Durham paying 10,000gns for this May 2008 born son of Bremore Artist and out of the Cloughhead Lord daughter, Glenrock Arianna.
Speaking after the Sale, BLCS Chief Executive Iain Kerr said: "This was an outstanding show of bulls meeting the demands of both the pedigree and commercial man. The bulls today had tremendous carcase attributes, good growth rates and displayed size, width and plenty of shape. There's a ready willingness to invest in these bulls because Limousin-sired progeny are realising such a premium both in breeding and prime rings. The standard of bulls forward is a great credit to the breeders' ability to produce what the market wants."
Other leading prices:
94 Ballinloan Diamond 9,000gns Harle Bros, Brandon Hall, Brandon Village, Co.Durham.
71 Mayfields Drambuie 8,500gns WJ Wright, Manor House Farm, Winsick, Derbyshire.
112 Kype Denver 8,000gns J Orr & Co, Randerston, Kingsbarns, St.Andrews, Fife.
183 Breconside Darkness 8,000gns John Pirie, Chapel Park, Lynchat, Kingussie, Inverness.
193 Haltcliffe Darius 8,000gns R Dunlop, Pinvalley Farm, Barr, Girvan, Ayrshire.
217 Glangwden Dodi 8,000gns Pritchard Bros, Hafan Deg, Rhosybol, Amlwch, Anglesey.
257 Cowin Destiny 8,000gns RL Howatson, Plas Newydd, Nantglyn, Denbigh.
117 Maraiscote Dougie 7,800gns J Farquharson, Horn, Errol, Perth.
67 Stotsfold Dragon 7,500gns A Fotheringham, Craighall Farm, Forgandenny, Perth.
153 Garnedd Dafydd 7,500gns A Paton & Co, Craig Farm, Straiton, Maybole, Ayrshire.
159 Hollingreave Dandy 7,500gns Kilnstown Farms Ltd, Kilnstown, Bewcastle, Carlisle.
164 Raysonhall Deputy 7,500gns TR & EA Milburn, Wall End Farm, Greenhead, Carlisle.
177 Cwmpedran D'jones 7,500gns S & GA Potter, Westside, Topcliffe, Thirsk.
87 Ballinloan Dynasty 7,200gns Harle Bros, Brandon Hall, Brandon Village, Co.Durham.
93 Hudscales Dino 7,000gns DT Richards & Son, Letty Brongu Farm, Llangynwyd.
228 Millgate Dennis 7,000gns C Phillips, Timberlands, Biscombe, Tornton, Somerset.
Averages:
40 Senior bulls £5,015.06
58 Intermediate bulls £5,903.00
45 Junior bulls £6,164.67
143 Bulls £5,736.97
Auctioneers: Harrison & Hetherington

Bristol Aberdeen-Angus Sale Tops at 3000gns


Imported Irish Beef Direct Threat to Future of UK Beef Industry


Belted Galloway Production Sale at Worcester