Clonagh Simmental Reduction Sale Tops at 8000 euro
2009-10-07
It was a battle of the British at Tullamore Livestock Mart on Saturday (3rd October 09), as Simmental breeders gathered for Garrett and Lyndsey Behan's major reduction sale of the Clonagh Simmental herd, along with a guest consignment from John Stone's Milton herd. The sale featured some of Ireland's finest Simmental genetics and gained fantastic support from British breeders with 19 lots selling to across the water.
Clonagh World Class - 6600 euro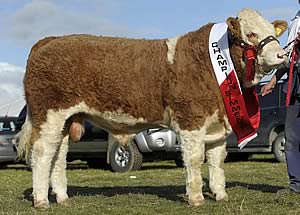 Sale leader at 8000 euro was one of the herd's most prolific breeders, Clonagh Posh Klowna, the December 2003 born cow by Anatrim Jacob out of Clonagh Klowna. Posh Klowna has bred exceedingly well for the herd including the National intermediate heifer champion Clonagh Temptress Posh. This dark red cow was sold in calf to the herd's stock bull Banwy T-Rex to an undisclosed UK buyer.
Next at 6600 euro was an 11 month old son of Posh Klowna, Clonagh World Class by Kilbride Farm Newry. World Class has been a successful member of the 2009 Clonagh show team and is full brother to the 2008 National Show intermediate heifer champion Clonagh Temptress Posh. After a keen bidding war he eventually knocked down to Bridget Borlase, Watton-at-Stone, Hertfordshire, England, where he will act as junior herd sire for her 140-cow Sacombe herd.
Clonagh Angel Eyes - 6600 euro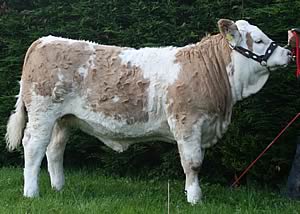 The same money was given for another of the much fancied lots on offer, the much admired Clonagh Angel Eyes. This 10 month old heifer had one of the best pedigree's in the catalogue and was the first heifer to be offered publically for sale by the herd's stock bull Banwy T-Rex. Out of the show cow Milton Senhorita, Angel Eyes has already picked up prizes this year and is the South Eastern Club January heifer calf champion. She sold to Jimmy and Vikki Wood for their Popes herd in Preston, Lancashire, England.
The Wood's were also on fine bidding form when it came to one of the older heifers in the catalogue, Clonagh Venus, a powerful stretchy heifer by Kilbride Farm Newry out of the Freighduff Brendan daughter Clonagh Princess-Joan. Born November 2007, this two year old stood reserve national intermediate champion at the National Show and supreme champion at Cappamore show this year. She sold for 5000 euro.
The second highest priced bull, bred this time in Lyndsey's Jennalyn herd, was Jennalyn Aspen, the first son of T-Rex to be publically sold at the age of just 7 months. Aspen is out of Milton Sapphire, who is full sister to Milton Senhorita and sold for 4400 euro to Anthony Davies, Renbury, Pembrokeshire, Wales.
At 4200 euro, Scottish breeder Jim Goldie, Annan, Dumfriesshire, took home the eye catching red and white January 2008 born Clonagh Wandas Hazel, another daughter of Kilbride Farm Newry out of the Brinkton Brilliant daughter Clonagh Hazel.
The second highest priced cow was Clonagh Raven Kay, a November 2004 born daughter of Marbelhill Liam out of Clonagh Kay. One of the favourites in the herd, Raven Kay was intermediate champion at the National Show in 2006 and holds countless breed championship titles. She was offered in calf to T-Rex and sold to John Brady, Swinford, Co Mayo for 3700 euro.
The November 2008 heifer Jennalyn Wild Rose, a daughter of Samark Superman out of the Rosten Barney daughter Jennalyn Rosie was next to go at 3500 euro. This flashy heifer knocked down to Paul Sammon, Neenagh, Co Tipperary.
At 3200 euro, Bridget Borlase was back in to secure a female to go with her earlier bull purchase. Clonagh Adorable is a January 2009 heifer by T-Rex out of Clonagh Norma. Well grown for her age, this heifer has tremendous growth and length and has already picked up three first prizes this year.
Just shy of that money 3100 euro was the highest priced lot from John stone's Milton herd. The September 2008 born Milton Whitney is a daughter of Cllenagh Flasher and is out of the Brinkton Brilliant daughter Milton Hilary, who bred the 21,000 euro Milton Majesty. Whitney sold to Jean Fegan, Tullow, Co Carlow.
Averages: Females 2730 euro; bulls 4250 euro (Tullamore Livestock Mart).
Other leading prices:
Milton Vanity (Feb 2007 heifer) by Hillcrest Champion sold for 3000 euro to Thomas Storey, Mountmellick, Co Laois
Milton Viceroy (September 2009 bull) by Salisbury Challenger sold for 3000 euro to Michael Gowing, Birr, Co Offaly
Clonagh Angel (January 2009 heifer) by Banwy T-Rex sold for 3000 euro to Anthony Davies, Pembrokeshire, Wales
Clonagh Well Worth It (September 2009 bull) by Kilbride Farm Newry sold for 3000 euro to Nicholas Conneeley, Ferrybank, Co Waterford
Clonagh Amora (January 2009 heifer) by Banwy T-Rex sold for 2800 euro to John Harrington, Bantry, Co Cork
Clonagh Willow (October 2008 heifer) by Hockenhull Maverick sold for 2800 euro to Adrian Bateman, Riverstick, co Cork
Milton Starlight (February 2005 cow) by Raveview King sold for 2700 euro to Gerard Briody, Oldcastle, Co Meath
Clonagh Wow (November 2008 heifer) by Hockenhull Maverick sold for 2500 euro to Adrian Ivory, Perthshire, Scotland

NI Breeders to the Fore at Carlisle British Blue Show & Sale


Richard Tucker to Judge Carlisle Charolais Bulls


Carcase Residue Testing Costs Must Be Risk Proportionate - NBA