2009-10-14
The launch pad for the latest editions of BCPC's keystone publications: The Pesticide Manual; The e-Pesticide Manual and The Manual of Biocontrol Agents will be at this year's BCPC Congress – which takes place at the SECC in Glasgow 9 to 11 November.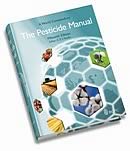 The Pesticide Manual, edited by Mr Clive Tomlin, and now in its fifteenth edition, "is a truly comprehensive source of information, which brings the reader right up-to-date with essential facts on today's crop protection products," advises Professor Ian Crute, chief scientist of the Agricultural and Horticultural Development Board (AHDB).

Completely revised with the latest information provided by manufacturing companies worldwide, this edition contains 30 new entries including more than 20 new synthetic molecules. It also lists over 2,600 products and features 1,436 profiles with 908 main entries and 528 abbreviated entries.

For users who require more comprehensive and up-to-date information and speedy access to The Pesticide Manual data, the online version, The e-Pesticide Manual, provides added value and powerful search facilities.

Also being launched is the fourth edition of the companion manual The Manual of Biocontrol Agents. This book, edited by Mr Len Copping, features biorationals derived from natural sources which have been found to make a real impact in controlling many important invertebrate weed and pathogenic pests and can form a vital part of integrated pest management strategies.

The latest edition has been expanded, with over 70 new entries and now contains details of 452 biocontrol agents used in over 2,000 commercial products.

Why not book a date in your diary now to visit the BCPC Bookshop at the BCPC Congress and Exhibition and attend the Civic reception in Hall 1, at the SECC, from 18.00 -20.00 hours on Monday 9 November at which the books' editors, Clive Tomlin and Len Copping will be on hand to discuss the latest publications.

Both books can be ordered now on-line, by phone or mail order – until 31 October 2009 – at a special pre-launch discount price. The Pesticide Manual is being offered at £220 (£250 after 31 October 2009) and The Manual of Biocontrol Agents is priced £140 (£165 after 31 October 2009). Version 5 of The e-Pesticide Manual is available priced £275 + VAT or for v5.0 plus two annual updates at £500 + VAT. These Special Offers extend to all visitors who purchase these titles at the BCPC Bookshop at the Congress in November.



Capitalise on Moist Conditions to Maximise Pre-Emergence Black-Grass Control


BCPC Congress to Address the Challenges of Feeding the World


BCPC Seeks Validation on EU Guidance on Pesticide Exposure Assessment