2009-08-18
XLVet member practices will be getting on their bikes and cycling to this year's Dairy Event & Livestock Show, at Stoneleigh Park and raising money for two charities along the way.
The northern XLVets calf, starting its journey
from NorthVet, Orkney.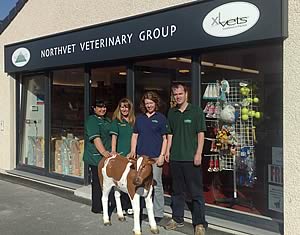 The two XLVets calves will also be making the journey; one is starting at XLVets Northvet practice in Orkney and the other at XLVets Rosevean practice in Penzance. The calves have to be on the XLVets stand at the 2009 Dairy Event, so the 42 XLVet member practices are getting on their bikes riding between practices and by working together, will get the calves safely to the show.
The event will herald the start of the XLVets autumn calf campaign, which focuses on promoting good calf husbandry. Following on from the journey of the two XLVet calves, a series of autumn calf health meetings will take place across the UK. The campaign will help raise awareness with farmers of the positive contribution that proactive veterinary involvement can make to the health of calves – the future of the herd.
As a nationwide group XLVet members work together, sharing experience, knowledge and skills in order to define and deliver the highest standards of veterinary practice, animal health and productivity. They strive to be at the heart of their farm client's business; as the primary source of highly valued on-farm advice and the central co-ordinating consultant for other farm services.
The bike ride will be raising money for two farming charities. The Royal Agricultural Benevolent Institution (RABI) is a charity that supports members of the farming community facing need, hardship or distress. The second charity, Farm Africa, is an international charity that provides training and support for poor rural communities to identify their needs and implement appropriate solutions to the key problems they face.

Farm Health Planning at Dairy Event and Livestock Show


NMR Introduces 'Tag & Test' to Improve BVD Control


Liver Fluke Threat Goes Critical Across the Country