2009-08-18
The Farm Health Planning (FHP) demonstrations are returning for a second consecutive year to the Dairy Event and Livestock Show, to be staged on 16 and 17 September, at Stoneleigh Park, Warwickshire by its organisers the Royal Association of British Dairy Farmers.
Young stock health is one of the key issues coverd by the Farm Health Planning demonstrations at the
Dairy Event and Livestock show.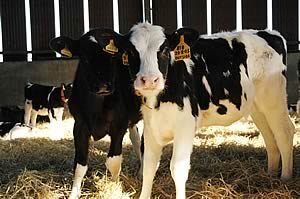 Called Healthy Animals, Healthy Profits, FHP will feature a series of practical demonstrations combined with technical information provided by some of the UK's leading specialist vets and advisors on proactive herd measures designed to help farmers manage disease, improve their livestock's overall performance. Key issues coming under the microscope are lameness, including foot trimming demonstrations, mastitis, fertility, young stock health, and profitable disease control.

FHP will be staged in a purpose built 600m2 exhibition hall with tiered seating, while presentations and practical demonstrations taking place throughout the two days will be clearly displayed on a giant plasma screen. The exhibition has attracted support from a wide range of industry sponsors; Boehringer Ingelheim Vetmedica, CIS/HUK, DairyCo, Forum Animal Health, Giltspur Scientific, Richard Keenan, NML/MHH, Intervet/Schering-Plough Animal Health, Tesco, VLA and XL Vets.

FHP project co-ordinator, John Sumner comments: "Previously, farmers have produced health plans which have usually amounted to an exercise of ticking the right boxes to meet certain industry assurance scheme requirements. That's where FHP differs. Our aim is to encourage the whole industry to take a more active approach to farm health planning whereby the farmer, the vet and where appropriate, a consultant work together in partnership and discuss the various issues before decisions are made. What's more, in addition to improving animal health and welfare, proactive management results in improved farm profits."

Corporate sponsor, Tesco's Emma Rutter adds: "We are very proud to be sponsoring the FHP initiative for its second year. This initiative fits well with the practical work we are doing with the members of our dedicated supply chain."

The Dairy Event and Livestock Show is organised by the Royal Association of British Dairy Farmers, is the only independent organisation dedicated to representing the interests of British dairy farmers.

HSBC, the world's local bank, is the event's principal sponsor.

NMR Introduces 'Tag & Test' to Improve BVD Control


Liver Fluke Threat Goes Critical Across the Country


Global Drive Launched Against FMD