John Deere 7030E Series Tractor Wins Royal Show Award
2009-07-17
John Deere's innovative 7030E Series Premium tractor has won the tractor category of the New Equipment Awards at the 2009 Royal Show. A 7530E model was shown in the Machinery Awards Display Area at the show.
John Deere dealer salesman Jack Wright of Farol (Atherstone), who exhibited at the Royal Show, with RASE chairman of council Hugh Oliver-Bellasis (left) and IAgrE president Richard Robinson at the New Equipment Awards presentation in the show's Machinery Awards Display Area on Tuesday July 7.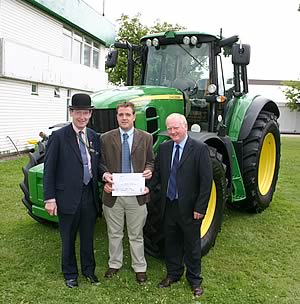 First seen at the 2007 Agritechnica Fair in Hannover, where they were awarded a DLG Gold Medal, John Deere's new 7430E and 7530E Premium tractors have been available in the UK and Ireland since spring 2009. Rated at 165 and 180hp (97/68/EC), rising to 200 and 215hp with Intelligent Power Management (IPM), these tractors are equipped with an integrated, high power electric distribution system.
A generator provides the power for electrically driven components such as the air conditioning compressor, engine cooling fan and air brake compressor, resulting in increased engine performance and better fuel efficiency. In addition, these tractors can provide external electrical power of up to 5kW through two power sockets, rated at 230 and 400V.
This design is the first example of electrical power being utilised to improve overall tractor efficiency, with the 'E' power management system controlling the various component drives at the appropriate time. The precise engine cooling fan speed is infinitely regulated by the system according to engine temperature, which leads to higher power levels at lower engine speeds for improved fuel economy.
The air brake compressor is able to fill the air reservoir quickly only when required, even at low idle. In hot conditions, the electrically driven air conditioning compressor also runs independently of engine speed, leading to increased comfort for the operator.
Moreover, thanks to this innovative system, the 7430E and 7530E Premium tractors have 12V at 300A continuously available on board. In addition, the power sockets allow the operation of most handheld and fixed tools commonly used in both agricultural and industrial applications.
Other key customer benefits of these 7030E Premium Series tractors include an additional 10hp from the engine's Intelligent Power Management (IPM) system, which leads to better acceleration on the road and an improved load response during pto work. This also means more comfortable operation as well as easier servicing and maintenance.

John Deere 3036E - New Value Line Compact Tractor


Deere & Company Prepared to Expand Operations in Russia


Foundation Stone Laid for New John Deere Technology Centre