2009-07-13
Have you ever been asked why fertilisers are used on your farm or perhaps been concerned yourself about the amount of energy it takes to produce them and the impact that has on climate change? Help is at hand. GrowHow UK has produced two easily accessible publications and set up a dedicated area on its website to answer all those questions.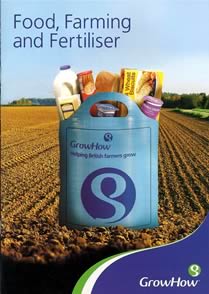 The first publication, Amazing Fertiliser Facts has been published in conjunction with LEAF (Linking Environment And Farming) to support Open Farm Sunday and help farmers tell the fertiliser story on their farm. The pack includes an information sheet for farmers and a handout for visitors which lists eight amazing fertiliser facts. For example, did you know that without fertilisers the world would only be able to feed about half of its people and then only with very basic overwhelmingly vegetarian diets? It would also need around 7 billion more cattle to provide the manure to maintain soil fertility. Feeding all those extra cattle would mean clearing nearly all our remaining forests to grow cattle fodder. Amazing Fertiliser Facts can be downloaded, free from www.growhow.co.uk/fertiliserfacts Printed copies of the visitor handout are also available and can be ordered via the website.
The second publication is a 12 page, A5 colour booklet called Food, Farming and Fertiliser. It examines the role of fertiliser in the context of the critical global issues of food security, climate change and environmental protection. The booklet provides a wealth of information and is written in plain English, avoiding as much jargon as possible. It provides answers to a range of questions from a simple, what are fertilisers, to the more complex issue of the impact of fertiliser use on climate change.
A number of unexpected facts emerge. These include the fact that a crop of wheat grown with the optimum amount of fertiliser will capture six times more energy from the sun through photosynthesis and 12 times more carbon dioxide from the atmosphere than is required to produce, transport and apply the fertiliser.
Looking at food security and environmental sustainability the leaflet quotes the United Nation's Food and Agriculture Organisation which says that global demand for cereals will rise by 50% by 2030. There are only two ways to satisfy this demand, expand the area farmed or increase yields. Environmentally, expanding the farmed area is a non-starter. It would seriously damage global biodiversity. At the same time cutting down forests and ploughing natural grasslands would release huge quantities of carbon dioxide into the atmosphere contributing to global warming. In fact it has been calculated that changes in land use such as the conversion of rain forests into farmland already account for 12% of global greenhouse gas emissions.
Food, Farming and Fertiliser can be downloaded at www.growhow.co.uk/fertiliserfacts or, if you would prefer a printed copy, please email info@growhow.co.uk or write to Marketing Department (Fertiliser Facts), GrowHow UK Limited, Ince, Chester CH2 4LB

Virtual Farm Walk Brings Children Closer to Farming


Agriculture is Essential for Facing Climate Change


Let Nature Feed Your Senses!