2009-06-25
For Farm Business Consultant Richard Jeffreys, joining SAC's team in Wooler is an exciting homecoming.
Richard Jeffreys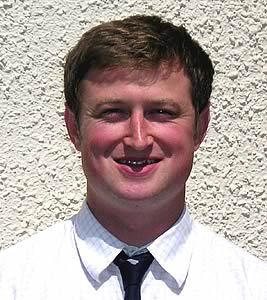 Farmer's son Richard grew up only seven miles north of the Wooler Livestock Centre from where SAC consultants offer a service to clients across the north of England.
Brought up on Kimmerston Farm, a 1000-acre arable unit, where the family also run a riding school, Richard did his agriculture degree at SAC's Aberdeen campus before starting his consultancy career in the Aberdeen and, later, the Perth offices.
During his three years in Scotland, Richard gained particular experience in interpreting the tight regulations surrounding the use of fertilisers and manures in so-called Nitrate Vulnerable Zones. North of the Border, NVZ's cover large areas and Richard believes his experience can be of use to local farmers as the concept also expands into northern England.
"Returning to the North of England is a fantastic opportunity for me", said Richard "I now aim to build a close working relationship with the farming community. SAC has had an office in Wooler for 2 years, expanding from 1 consultant to 4, offering leading-edge independent advice throughout the region. Joining such a progressive "home" team is a real buzz, especially as the industry's demand for technical support has never been greater."
When he is not working, Richard can be found helping on the farm or working his spaniel, although rugby and fishing are other passions. But it will be his new role that will take up most of his time, using his experience in farm business planning, benchmarking, budgeting, diversification, crop management and single payment scheme requirements.

Virtual Farm Walk Brings Children Closer to Farming


Agriculture is Essential for Facing Climate Change


Let Nature Feed Your Senses!