Health and Fitness Bulls Will Improve Dairy Cow Welfare
2009-06-08
With dairy cow welfare high on the agenda, it is fitting that breeding company Dairy Daughters has launched two of the leading health and fitness bulls available to British farmers.
Ditica GP82 by Prince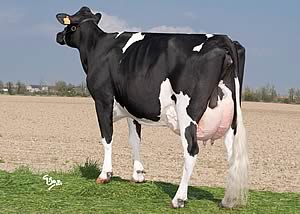 New Farm Britt Prince offers a phenomenal -31 for Somatic Cell Count Index, making him the number two cell count improver available to UK farmers. He combines this with excellent scores for Lifespan (+0.3) and Fertility Index (+0.2), showing his daughters have all the key management traits required on the modern farm.
One glance at his linear profile shows Prince daughters to be moderate in many departments with near average stature which they combine with body strength and depth. Rump angle is close to perfect and overall Type Merit is +1.77; mammary +1.36 and legs and feet +1.85.
With milk components both positive at +0.07% fat and +0.03% protein together with 225kg milk, this bull will have widespread appeal to those who are seeking to improve the quality of milk from cows that will fit with ease into the system. He has a Profitable Lifetime Index of £140.
Prince is a son of Fantasy Britt Gap (by Rudolph) and from a daughter of Mtoto – a bull which is gaining an international reputation for siring high welfare sons and grandsons. He is also backed by an impressive three generations of health and fitness sires in his pedigree.
The second health and fitness sire is Ladys-Manor O Autumn who also scores well for cell counts (SCC -19); fertility (FI +0.1) and lifespan (LS +0.2) whilst maintaining excellent milk production, again with positive components.
As an O-Bee Manfred Justice x Aaron, Autumn transmits many of the traits for which his sire is renowned, with milk at 459kg, fat 28.3kg (+0.14%) and protein 16kg (+0.02%), while PLI is £178.
Daughters are average for stature at +0.26 but have the front end power many farmers are looking for with +1.80 chest width. With the addition of well-attached udders and super feet (L&F +2.18) he gains an overall Type Merit of +1.70. As an easy calving sire into the bargain, Autumn brings an all-round package that will appeal to the many farmers who want healthy, productive and trouble-free cows.
"We are delighted to have secured two sires of this calibre in terms of health and welfare," says Alison Lovell from Dairy Daughters. "These are both very complete packages and we are confident they will have widespread appeal to the many farmers looking for profit but for whom cell counts, fertility and lifespan are a growing concern."

Simple Milking Parlour Routines Can Halve Bactoscan Readings


2009 RABDF Princess Royal Award Made to Livestock Nutritionist


Chalclyffe Holstein Herd to host RABDF NMR Gold Cup Open Day