Simple Milking Parlour Routines Can Halve Bactoscan Readings
2009-05-26
Following a simple set of milking parlour routines can help to safeguard milk quality and reduced Bactoscan levels by up to 50%. That is according to dairy farm hygiene specialist Adrian Lawrence of chemical manufacturer Kilco Ltd.
Hygienic teat preparation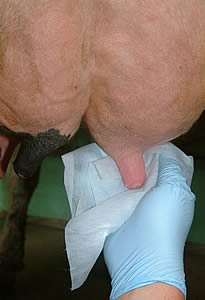 Recent trials carried out by Kilco have shown that on farms where a policy of wearing rubber gloves and wiping teats before milking has been adopted, Bactoscan levels are reduced by an average of 25 to 30%. And on farms where an iodine pre-dip solution is used and clusters are dipped in a solution of peracetic acid between cows, the reduction can be as high as 40 to 50%.
"It is surprising how many farm workers and herdsman don't have a set routine for preparing the teats prior to milking," claims Mr Lawrence. "The worst offenders are often those that have only ever milked their own cows and therefore haven't received any formal training about dairy hygiene."
By following a few simple guidelines it is possible to dramatically reduce Bactoscan levels and safeguard payment bonuses. "Farmers should wear disposable rubber gloves and pre-dip cow's teats as a matter of routine," advises Mr Lawrence. "In parlours without automatic cluster flushers, it also makes sense to rinse the liners in a bucket of peracetic acid after each cow has been milked. A 1% solution will be strong enough to provide effective levels of disinfection and to sanitise the cluster and will also prevent infections being spread from cow to cow. Just don't forget to recharge the bucket regularly to make sure the solution is still effective."
Random swab sampling of the dairy herd at Harpbury College in Gloucestershire showed that un-prepared teats display an average Bactoscan count of 650,000 coliform forming units (cfu) while those that had been dry wiped with a clean paper towel had a count of 540,000 cfu. In comparison, teats that had been treated using Wynnstay's RTU iodine pre-dip solution had a reduced count of just 280,000 cfu.
"We also tested bacteria levels on a new rubber glove and found that even that had a bactoscan of 200,000 cfu," explains Mr Lawrence. "But that is nothing compared to the average herdsman's 'clean' hand which was found to have a Bactoscan of 1,100,000 cfu.
"The simple act of wearing rubber gloves can therefore reduce the risk of bacterial contamination by up to 80%."
However, the study also discovered that within an hour of use, Bactoscan readings can soon increase to hazardous levels. "Our test showed that after half an hour of use the number of bacteria on the glove had almost doubled, and after an hour had risen to more than 600,000 cfu. It isn't necessary to keep changing gloves, but it does make sense for milkers to dip their gloved hands in the same bucket of peracetic acid that is used to rinse the milking claw. That way, the gloves' bacterial integrity will be prolonged."
Kilco has recently joined forces with Wynnstay to promote the importance of following these guidelines to dairy farmers. A free parlour health check worth £200 is available with each purchase from the Wynnstay Premier Dairy Chemical range which includes a selection of dairy detergents and pre and post-milking teat dips.
"The aim of the health check is simply to make sure that Wynnstay's customers are taking the necessary steps to protect milk quality," Mr Lawrence adds. "Ensuring that the right chemical is being used at the right inclusion rate may seem obvious, but this can have a huge effect on milk hygiene, as can checking the temperature of the circulation water.
"A circulation time of six to eight minutes is plenty to clean most parlours. Any longer and the cleaning solution will cool too much and begin to re-deposit much of the grime that it has removed.
"The parlour is essentially a food production area. That is why many milk buyers pay a premium for top band milk. Farmers who have low Bactoscans don't achieve this by accident. They achieve it through hard work, having a set milking routine and a thorough cleaning regime. It is therefore vital to make periodic checks to ensure that the parlour and bulk tank are being cleaned effectively in order to safeguard milk quality and to save money," Mr Lawrence concludes.
Farmers can qualify for a free parlour check by applying in their local Wynnstay Store or by contacting their Wynnstay sales representative.

2009 RABDF Princess Royal Award Made to Livestock Nutritionist


Chalclyffe Holstein Herd to host RABDF NMR Gold Cup Open Day


Dairy Specialist Mueller's Distribution Gets Bigger and Better