Matfen Home Farm Manager to Receive Long Service Certificate
2009-05-19
Malcolm Oliver, Farm Manager at Matfen Home Farm is to receive recognition for his 30 year's service at next week's Northumberland County Show.
Malcolm Oliver of Matfen Home Farm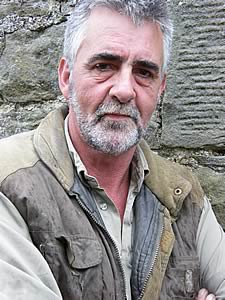 Malcolm will be presented with a framed certificate during the agricultural highlight of the day The Champion of Champions Parade in the main show ring mid afternoon.
'The Long Service Awards have been existence for twenty years at the show and are our agricultural equivalent of a trade award to recognize dedication and excellence' says President of the Tynedale Agricultural Society, Anthony Crozier. 'We are usually contacted by landowners to alert us to those employees who are coming up to 30 years service' he says 'and we are happy to be able to mark the event within our very public 'stage' the main arena on show day'.
Malcolm, 54, of Halton Shields was unaware of the forthcoming event and unaware that such certificates existed although he says 'I did joke in the Estate Office at the beginning of December that I must be due a gold watch'. He had to be tipped off about the event in advance in order to arrange his current calving duties around a visit to the show.
Malcolm was just 19 when he arrived, 9th December 1978, at Matfen Home Farm - a collective name for farms Carr Hill, Halton Shields, Halton Castle and Aydon Castle - owned by Sir Hugh and Lady Anna Blackett and had been hired specifically to build up a sheep flock.
"There were 500 'odds and sods," says Malcolm, "mainly Mules. It took three or four years to knock them into shape." Malcolm was perhaps the first in the region to introduce what he describes as the 'far superior and better quality' Texels through contacts in Kent and by selective cross breeding the flock is currently 800 three quarter Texel strong. He was appointed farm manager some ten years later.
Joint discussions with Malcolm, the Estates Office and Sir Hugh saw the farm turn totally organic eight years ago.
"At that time we were one of the first to pursue organic in this area so there wasn't an awful lot of advice to be had, it was a case of learning as you went along; good start up money but very strict rules to follow."
The farm currently supplies the 'home hotel' 80 seat restaurant at Matfen Hall with clover fed organic lamb which is also sold country wide with enviably high 'E' slaughterhouse grades.
Originally from Rothbury (as he describes it, The North Country), his own father was a shepherd looking after 1,200 Blackface ewes and young Malcolm followed him day today.
"I did my first lambing aged six," he says. Bright at school and Deputy Head Boy at Rothbury, he was encouraged by the head teacher to pursue his studies further at the Grammar School in Morpeth, but, "I couldn't fit in all the homework I already had a job at the farm. I was feeding cattle at 6am, it was an hour to school and an hour back and more farm work when I got home."
Malcolm ultimately chose the farm and became what he describes as a 'lackey' amongst the farm team working on the tractor and with cows but quickly took on shepherding duties drawn by the lure of his own shepherding cottage before moving south to Matfen.
Malcolm's initial response at his certificate presentation was to be delighted to have the recognition but was quick to cite the first class qualities of his right hand man Mark Hogg, originally from Amble who had come to the farm as an apprentice gamekeeper as well as his partner of 13 years Carol English, a care worker.
"I couldn't do what I do without Carol, she may not see me for days and days but when I get in the fire is lit, the washing is done, the logs are in, Carol is 'home' to me."
With 800 organic acres in his charge, 800 ewes, 90 suckler Limousins and 200 acres devoted to cereals. "Farming is not a job," he says "it's a way of life with 14/18 hour days where everything's a challenge with serious ups and downs and increasing bureaucracy."
Sir Hugh Blackett says: "I have never known anyone more dedicated to his job than Malcolm. Quite apart from being a brilliant stockman, he is extremely passionate at all other aspects of the farm including the arable side.
"Malcolm is something of a legend in this area and he is widely respected. I have total confidence in his judgment and respect for his views when a policy decision is being discussed. I am delighted Malcolm is being recognised for his long service here and wish him many more years to come. Malcolm is without doubt irreplaceable!"

Natural England Sponsors Dairy Display at Northumberland County Show


EID Seminar at Welsh Sheep Event


Plans On Track for Another Jam-Packed Borderway Agri-Expo