Otley Show Bicentenary Entries Top 3,000
2009-05-08
Over 3,000 entries have been received for this year's milestone 200th Otley Show, on Saturday, May 16.
Sheep entries are well up on the previous year at 397.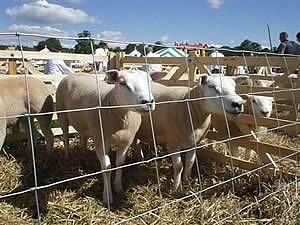 Traditional livestock classes, down in 2008 because of Bluetongue movement restrictions, have seen an expected increase, with a total of 285 entries, the highest in the past five years and more than double last year's numbers, received in the cattle section. Sheep section entries are also well up on the previous year at 397.

There are 377 entries in the horse classes. For the first time this year, the Shire classes feature a qualifier for the 2009 Horse of the Year Show in Birmingham, supplemented by a one-off bicentenary Heavy Horse Turnout Challenge, by invitation only and with £2,500 in turnout and prize money.

The farriers' competition has attracted record entries, with nine forges instead of the usual four required to cope with the six classes that will run throughout the day, with both qualified and apprentice farriers working side by side. There's a total prize fund of over £2,000, with entries received from across the country, including the current European champion, Steve Beane, from Northallerton.

The rabbit section is particularly strong this year and will hosting three rabbit club stock shows – the National Orange and Fawn Rex, Northern Silver Fox, and National Himilayan. The secretary of the British Rabbit Council, Sue Mason, from Newark, will be setting up stand to provide help and advice to anyone interested in keeping rabbits.

The rabbit marquee will also be the venue for the Northern Hamster Show, the first time it has been staged as part of Otley Show.

In total, 3,076 entries have been submitted across all competition categories, with handicrafts, produce, poultry, waterfowl and pigeons, floral art and young farmers' classes also holding up well.

A total of 75 trophies and £12,500 in prize money, including £5,500 in the livestock classes alone, are available to be won during Otley Show's Bicentenary year, and organisers Wharfedale Agricultural Society report the first major regional agricultural event of the 2009 season is on track to be one of the biggest and best ever.

For only the second time in the show's history, there will be a Royal presence with the attendance of the Duke of Gloucester. BBC Look North weatherman Paul Hudson will also attend.

Attractions lined up for the day include The Knights of the Damned Jousting Display Team, The Sheep Show, Yorkshire Military Marching Band, Otley Brass Band, Mountgrace Gun Dog Display, Ben Potter Birds of Prey, National Vintage Engine Club, Badsworth and Bramham Moor Hunt, flyfishing and other demonstrations.

A display covering the 200-year history of Otley Show will be a centrepiece of the bicententary event, shining the spotlight on all aspects of farming and agriculture over the past two centuries, along with a moving pageant depicting rural life.

There will also be a grand parade of champions, along with more than 100 trade stands and food outlets, plus up to 50 craft exhibitors.

Otley Show continues to remain a highlight in the town's calendar, not only supporting the region's farming and agricultural communities, but also providing a big boost to the local economy.

Major sponsors include PM Clayton Transport, the Leaventhorpe Hall Group of Companies, Waitrose, Wm Sinclair & Sons, Stephen H Smith Garden & Leisure, B&TS Builders Merchants, BFE Brays, I'anson Bros and Rosettes Direct.

Ticket prices for this year's bicentenary event remained unchanged and are cheaper if bought ahead of show day at £7 for adults (£8 at the gate), senior citizens £4 (£5) and children £1.50 (£2.00). Car parking is again held at £2. Tickets are available from both Otley and Ilkley Tourist Information Centres, HSBC Bank, Otley, and many other shops around the town.

Full details are posted on the show website at www.otleyshow.org.uk Secretary Janet Raw can be contacted on 01943 462541.

Be a Cheese and Dairy Expert at the 2009 Great Yorkshire Show


Entries Flurry at Northumberland County Show 2009


Business Boosting Export Opportunities at NSA North Sheep 2009