Dairy Specialist Mueller's Distribution Gets Bigger and Better
2009-05-14
Specialist multi-national dairy equipment manufacturer Mueller is re-organising its UK distributorship to give enhanced support to milk producers.
Phil Valentine, left, with GD and M Dunglinson's general manager Malcolm Douglas and a tank fitted with an 'MIII' bulk milk cooling and vessel cleaning system.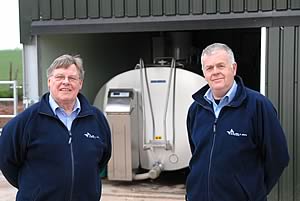 Changes to the operation of the only specialist milk cooling and heat recovery technology company in the country have come about following the retirement of Phil Valentine, managing director of Mueller Cooling Systems Limited based in Pershore, Worcestershire.
Four farm refrigeration specialists have been appointed UK distributors for the US based Paul Mueller Company, one of the World's largest bulk milk cooler manufacturers who are also involved in the pharmaceutical, chemical, heat transfer and food processing industries, with the aim of further improving customer support through an expanded network of regional dealers.
Taking on the role are existing Mueller dealers and primarily family run companies – GD and M Dunglinson, of Brunstock, Carlisle, Cumbria, Jenkins Refrigeration, of Carmarthen, Dyfed, KJ Refrigeration of Barnstaple, Devon and Caswell Refrigeration of Wootten Bassett, Swindon, Wiltshire.
Each of the four companies takes on its own territory with Dunglinson covering the north from Cheshire and South Yorkshire to include the milk producing areas of Scotland, Jenkins takes Wales and the Welsh border area, Caswell covers East Anglia, The Midlands and the South East while KJ is responsible for the West country including Dorset.
The four distributors will handle marketing, sales, warehousing and distribution for Mueller and build on the existing network of regional dealers.
"Whilst It is a major change for Mueller here in the UK, I am confident that with such a range of highly efficient and top quality products, it can only enhance the company's presence still further said Phil Valentine who has been involved with the company since 1978 in pioneering direct expansion milk cooling in the UK".
"Mueller, is a huge worldwide organisation and has become synonymous with manufacturing quality products and wants to increase its share of the UK market where it is primarily involved with the dairy industry both in the processing and agricultural side," he added.
"Mueller is more than prepared to support the distributors in the market with the aim that the end user will find a greater Mueller presence," said Mr Valentine
Speaking on behalf of the four newly appointed distributors, Malcolm Douglas, manager of GD & M Dunglinson said: "The changes come about when dairying in the UK is becoming an increasingly specialist business and Mueller with its expertise in milk cooling and heat recovery can play a vital role in helping our milk producers become more efficient and cost-effective, particularly with the emphasis on climate change and reducing energy inputs.
"We are all delighted to be part of this re-organisation and in rolling out the benefits of Mueller to even more milk producers."
The re-organisation coincides with the successful introduction to the UK market of the 'MIII' bulk milk cooling and vessel cleaning system which has already had a huge uptake throughout Europe.
All Mueller 'MIII' milk coolers includes, as standard the 'Milk Guard', a highly comprehensive milk monitoring system, a vital tool in the traceability of milk supplies which is likely to be required as part of future milk contracts by the UK dairy companies.

Beacon Shines Amongst Bullsemen High PLI New Entries


Keen Demand for Ayrshire Genetics


Dairy Shorthorn Leads Both Sides of the Atlantic