Beacon Shines Amongst Bullsemen High PLI New Entries
2009-05-08
Majestic-Manor Beacon, at £200 PLI, is the highest of six newly released Holstein sires from Bullsemen.com now featuring in the Holstein UK bull proof listings.
A Beacon daughter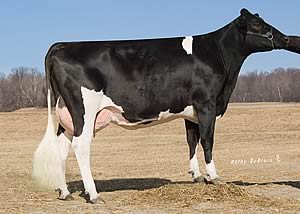 All six are in the PLI top 50, giving Bullsemen.com a dominant one-third share of this category.
A son of top PLI sire O-Bee Manfred Justice, Majestic-Manor Beacon is +705kg for milk and +31kg fat (+55kg fat and protein combined), and -13% for somatic cell count.
Four other O-Bee Manfred Justice sons are amongst Bullsemen.com's latest new releases, including Dansire Oman Opman (£198 PLI), Springhill-OH Conviction (£171 PLI), Omro (£171 PLI) and Clair-Lo Jack. All share high milk production, very good fat and protein and are long-living cattle with good somatic cell count scores.
Lisleview Mtoto Lethal is the sixth new entry from Bullsemen.com since the April proof run. Part of the recently launched Blade Star Sires premium bull calf scheme, Lethal has an excellent lifespan of +0.5 and outstanding milk production of +673kg.

Keen Demand for Ayrshire Genetics


Dairy Shorthorn Leads Both Sides of the Atlantic


FAO Dairy Scheme Boosts Afghan Farm Incomes