Parkhouse Limousin Cow Leads Carlisle Sale at 20,000gns
2009-05-22
Limousin females were again in big demand at the Dispersal Sale from the Parkhouse Herd on behalf of Tom Cheshire, Manor Farm, North Marston, Bucks, held at Carlisle on Wednesday 20th May 2009.
Parkhouse Val - 20,000gns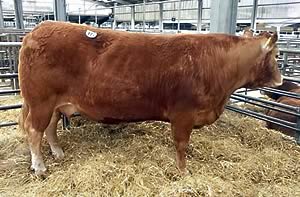 Held together with the Annual Limousin Youngstock Sale, the day saw a top price of 20,000gns for Parkhouse Val, a 5 year old cow out of Mandarine and by Ontario. She was purchased with her bull calf at foot, Parkhouse Duke by the homebred sire Parkhouse Argyll, by Smiths of Bloxham, Newlands Farm, Milton Rd, Bloxham, Banbury for their pedigree Ironstone herd. Joining her at Ironstone was the next highest priced lot at 15,000gns, Parkhouse Uptowngirl, a 2003 born daughter of Pareo and out of Pepita.
Demand for the Parkhouse females was high with nine lots in total selling over the 5,000gns mark. 14 Cows averaged £6322 with 7 Heifers levelling at £2865 apiece. With Tom Cheshire now farming in France, this sale was a dispersal of the part of his herd still based in England and featured many daughters of his original stock bull, Ontario, who has produced powerful, milky and easily fleshed offspring. A previous Production Sale from the Parkhouse Herd in July 2006 had seen another spectacular day's trading with bids at 21,000gns, 16,000gns and 15,000gns respectively. The top lot that day had been snapped up by Smiths of Bloxham with the next two price tags heading to the Kellys at Nether Hall and as such the May 2009 Sale was much anticipated.
Smiths of Bloxham were again prolific purchasers here and further acquisitions included two animals at 6,000gns: Parkhouse Vigour, another Ontario daughter and this time out of Nicoise; Parkhouse Unbelievable by Pompier and out of Maurisette. Both were sold in calf to Parkhouse Bosco. Parkhouse Chantalou and Parkhouse Anita, secured for 5,000gns each, also head to Smiths. Parkhouse Chantalou is sired by the Ontario son, Parkhouse Victor, and out of the Pareo daughter, Parkhouse Uptowngirl (sold earlier for 15,000gns). Parkhouse Anita is another Ontario daughter and out of Houle. Smiths of Bloxham host a much anticipated Open Day on Saturday 4th July 2009 where these and other prominent stock will be on view.
The only bull in the sale was the aforementioned Parkhouse Bosco when snapped up for 8,000gns by Andrew Ewing of the Fairywater herd, Dumbretton Farm, Annan, Dumfries. This son of Parkhouse Uptowngirl is sired by Limo Tanat, the well known bull bred by Greenmount College, Co Antrim, N Ireland.
WJ & M Mash Ltd of Torrington Farm, Grove Lane, Chesham, Bucks purchased 3 females for their Brockhurst herd. Parkhouse Anabel, another Ontario daughter and out of Nicotine, along with her bull calf, was secured for 5,500gns. Parkhouse Usabelle, a Nenuphar daughter, and Parkhouse Charlotte, by the Irish bull Milbrook Tanko, were both purchased for 5,000gns.
The Annual Youngstock Sale comprised stock from 11 herds and leading the trade was the 12 month old heifer Marlepark Dreamcatcher from Castlewigg Farming Co Ltd, Whithorn, Newton Stewart, Dumfries. This Wilodge Vantastic daughter and out of the homebred dam, Marlepark Valencia, with a Beef Value of LM+30 caught the eye of David and Maggie Kelly of the Netherhall herd, Carnforth and was purchased for 4,800gns.
3,600gns saw a Silex daughter, Gunnerfleet Chauler, from J Handley, Chapel le Dale, Ingleton, Lancs sell to J Howell, Gwarcoed, Dolgran, Pencader. Out of Gunnerfleet Pauler, her back pedigree includes Muirhouse Lagonda and Broadmeadows VIP. A second purchase at 3,300gns saw another daughter of Silex, Gunnerfleet Diris, joining Chauler at J Howell's.
Top price for a young bull was 3,500gns for the16 month old Hudscales Duke consigned by A & W Cowx, Hudscales, Hesket New Market, Wigton. This son of Vivaldi was purchased by W Lockhart & Son, Laggan Park, Dumfries. 3,200gns saw Marlepark Dixiechic, the first daughter of the 18,000gns sire Normande Arapaho, go under the hammer to A Harley, Stirlingshire for their Netherwood herd.
Other leading prices:
Griseburn Dansi 2,900gns to GM Roberts, Myfyrian Isaf, Anglesey
Hudscales Defoe 2,800gns to F Ewart, Easter Dounie, Perth
Hafodlas Dario 2,500gns to J Steele & Son, Carnwath, Lanark
Beck Duffy 2,500gns to JA Lambie, Auchterarder, Perth
Gunnerfleet Dijester 2,400gns to RA Savage, Castlerock, Co Londonderry
Hafodlas Dewi 2,000gns to W Templeton & Son, Dumfries
Hudscales Dannyboy 2,000gns to J Steele & Son
Gunnerfleet Drobina 2,000gns to RA Savage
Averages:
Parkhouse Herd
14 Cows Served and/or Suckling £6322.50
1 Stock Bull £8400.00
7 Served and Maiden Heifers £2865.00
Youngstock
Hafodlas Herd 2 Bulls £2362.50
Hudscales Herd 7 Bulls £2235.00
Marlepark Herd 8 Heifers £2145.94
Beck Herd 2 Bulls £1952.50 3 Heifers £1330.00
Gunnerfleet Herd 19 Heifers £1682.76
Norman Herd 5 Heifers £1407.00
Griseburn Herd 9 heifers £1324.17
Glenturk Herd 1 Bull £1260.00
Dentox Herd 2 Heifers £945.00
Greenmeadows 5 Heifers £861.00
Greenfinch Herd 1 Heifer £840.00
Auctioneers: Harrison and Hetherington

Charolais Command Solid Trade in Carlisle


Pre-Sale Weighing of Cattle Can Boost Earning


Charolais Lead Perth Multi-Breed Sale at 6,500gns