Farmer Grant Aid for Electronic Weighing Equipment
2009-Apr-03
Many farmers in Scotland have yet to respond to the offer of grant aid towards set up costs for the purchase of electronic equipment, according to an investigation undertaken by Ritchey, the Masham, North Yorkshire company that sells the Tru-Test series of electronic weighing machines.
Tru-Test Eziweigh 1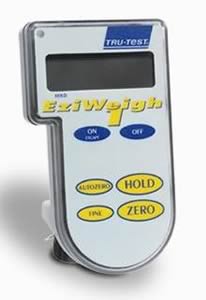 To date, some 22% of farmers who took up the 2008 Land Managers Option (LMO) scheme have applied for the grants, which are available towards the cost of equipment to help them increase efficiency, explains Ritchey product development manager, Paul Hunter.
Examples under option (a) include electronic ear tag readers, weigh cells and compatible computer software. Money is also available under option (b) to cover the purchase of precision farming equipment for arable enterprises, including GPS site mapping technology.
According to Scottish Government figures, out of almost 4,000 producers who have applied for the 2008 LMO scheme, only 885 have taken advantage of Option 4 (Modernisation Through Electronic Data Management for Agriculture). The grant, which is non-competitive, offers 40% towards costs, up to a maximum of £1,000 per option (a) and (b) any five years. Producers wishing to take advantage of the grant this year have until 15 May 2009, to send in their applications.
"People can be wary of what they see as complicated technology. But farmers who have opted for electronic recording report that these systems can increase accuracy, and save time and money," says Mr Hunter.
"In some cases, producers have already used up their LMO allowance, which provides grant aid of up to £3,450 annually for a 100ha farm, for example. But I would encourage anyone considering the use of electronic equipment to look into it further. Support is available, and Ritchey has recently put together a user-friendly, quick-start guide that explains how to operate the electronic weighers in the Tru-Test range."
The grant can only be used for new equipment, which must be paid for within the scheme year and should be maintained in good condition five years from the date of purchase, adds Mr Hunter. He points out that all Tru-Test equipment is designed to withstand harsh on-farm conditions, even when it is operated in a dusty or wet environment.

Producers are encouraged to get together and apply for equipment they could share between them. For a collaborative purchase, each producer can claim 40% of his contribution. For example, if one farmer buys weigh cells on his own and shares a tag reader with his neighbour, he can claim for both items simultaneously, as long as the total claim does not exceed £1,000.

The grant funding is non-competitive, and applies to any project aimed at improving rural business viability. Successful applicants will receive 40% of eligible costs, up to a maximum of £1,000 per option.
Farmers interested in applying for grant aid are advised to contact their nearest SGRPID (Scottish Government Rural Payments and Inspections Directorate) office.
More information about the Tru-Test series of electronic weighers, which give accurate weights, even if the animal is moving, can be found at www.ritchey.co.uk

Parks & Grounds Machinery at Royal Show 2009


CLAAS at Grassland UK 2009


Case IH Competition - Agri-Future 2020