08/03/09
John Deere has invested 3.7 million euros in a new biomass boiler system at its Zweibrücken factory in Germany, which manufactures combine harvesters and self-propelled foragers for worldwide markets.
Zweibrucken biomass boiler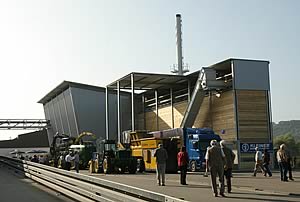 This is the first system of its kind to be installed at a European John Deere manufacturing plant, and is designed to reduce the unit's greenhouse gas emissions by up to 3500 tonnes a year.
Replacing the factory's 40 year old heating system, the new installation includes 6.3 and 1.75 megawatt solid material boilers to accommodate varying energy needs throughout the year, two silos with capacities of 1050 and 510 cubic meters plus new pipework and heaters. It will provide sufficient energy to heat the facilities and air condition the offices, as well as produce heat for various manufacturing processes, including the factory's e-coat painting system.
The boilers will consume about 4000 tonnes of wood chips a year from various sources, including fast-growing trees and forest residues, packaging waste and pallets received with incoming parts and materials, as well as rapeseed cake (a by-product of local rapeseed oil production).
"This new biomass boiler system will help to significantly reduce our carbon footprint," said Richard Ruf, general manager of John Deere Werke Zweibrücken at the official opening ceremony. "It alone will contribute about 80 per cent of our targeted reduction in greenhouse gas emissions by 2014."
The special open day ceremony attracted 7500 visitors and included a tree-chopping demonstration by a John Deere Forestry forwarder and a self-propelled forage harvester, which was equipped with a special intake to feed the forager's cutterhead drum. An accompanying renewable energy exhibition featured 40 companies offering biomass, solar and wind energy products, including advanced heating technologies for consumers and farmers.

WildCare Farmers Help Save Threatened Bumblebees


Sainsbury's Dairy Farmers Reduce Greenhouse Gas Emissions and Cut Costs


New Opportunities in Higher Level Stewardship Schemes