Moonshine Brightest at Knockenjig Ayrshire Sale
13/03/09
The majority of Ayrshire breeders in the UK and Ireland travelled to Borderway on the 11th March to see the famous Knockenjig herd dispersed.
Knockenjig Moonshine 23 VG88 – 7000gns.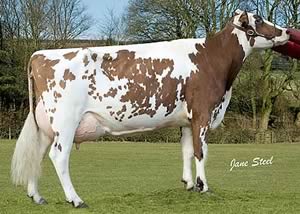 It had been a much anticipated event since it was first advertised and the enormous crowd witnessed one of the greatest sales in living memory. David and Rosemary Dickie must be praised for the quality of the animals, the years of dedication in breeding and management was evident for all to see.
Many Excellent and Very Good cows and heifers were sold to other leading herds throughout the UK, the young stock especially created massive demand resulting in an average of £897 for all calves under one year old. The Dickie family would like to thank everyone who purchased animals and attended the sale and hope the cattle are successful for their new owners.
The second highest price ever paid for an Ayrshire cow was realised for Knockenjig Moonshine 23 VG88 selling for 7,000gns to Holehouse Farms, Holehouse, Kilbirnie, Ayrshire. This beautiful uddered cow was just starting her second lactation and should be a big contender for some of the spring shows. Her pedigree was impressive, sired by Woodland View Pardner and from an Excellent grand dam who produced over 60 ton lifetime.
From the same family Knockenjig Moonshine 22 VG88 sold for 6,000gns to SPR Reed, Rhos-Y-Gadair Fawr, Blaenannerch, Cardigan. She sold carrying an Easlad pregnancy for early May, last year she placed second at the Royal Highland Show to the overall champion. Also selling for 6,000gns was Knockenjig Lucky 22 H186, she was 1st heifer in milk at last years Dumfries show and placed 3rd at Agriscot as a Senior heifer in milk. This awesome young heifer now joins the herd of GR Thomas, Tyreglwys Farm, Llangennech, Llanelli, Carms.
Knockenjig Wallpocket 15 H186 one of the stars from last years Agriscot sold for 5,200gns to J Adamson & Son, Swaits, Pettinain, Lanark. Sired by McCornick Nelson she easily won the Junior Heifer in milk class at Agriscot and went on to compete in the overall championship.
The herd was full of tremendous uddered cows; however Knockenjig Brindle 21 VG87 had an awesome udder and sold for 4,100gns to NRA Poots, Blackhill Farm, Blackhill, Peterhead. She was a second calf cow due in October to Easlad from a super cow family.
Cow families and pedigrees added considerable value to the best young stock. Knockenjig Tilda 13 sold for 3,500gns to GR Thomas, Tyreglwys Farm, Llangennech, Llanelli, Carms. This very stylish heifer was sired by Triple Crown with the first two dams classified Excellent with high production and components.
The highest price calf under one year old was Knockenjig Heather Bloom 22 sired by B Jurist from an Excellent 91 2E dam. The grand dam was also Excellent and had produced over 60 ton lifetime with two breeding stars. Both calf and dam sold to J. S. Watson Highmark Farm, Leswalt, Stranraer for 2,400gns.
Averages
186 Cows & Heifers in milk/ in calf £2175.19
51 In Calf Heifers £1284.91
85 Maiden Heifers £864.95
72 Heifer Calves £887.10
6 Bull Calves £1085.00
4 Bulls £2401.88
404 Overall £1369.42

Ten Per Cent Increase in NMR/RABDF Gold Cup Qualifiers


Genomically Proven Shottle Son Now Available in UK - Regancrest Shottle Ian


RABDF calls for Milk Regulator