Genomically Proven Shottle Son Now Available in UK
26/02/09
Genomically proven bulls are now available in the UK from Bullsemen.com, and the Shottle son Ian is already creating significant interest, according to the company's managing director Nick Kirby.
Regancrest Shottle Ian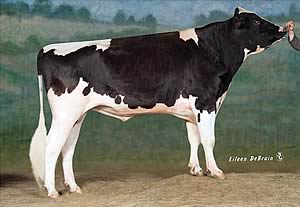 Ian, who is out of the renowned Delia family, demonstrates the all-round genetic improvement that is expected to become typical of genomically proven sires, with +3.5 PTAT, +0.5 Lifespan, +401kgs milk and an outstanding -26% for somatic cell count.

"DNA-tested bulls will bring wider choice from an increased gene pool and significantly reduce the waiting time for superior genetics," says Nick Kirby. "The average merit of a DNA-proven bull is 30% greater than progeny tested bulls.

"According to our partner CRI, who lead the way in genomics in the US, average reliability of a DNA-proven bull is 68%, which is equivalent to the first proof of an older bull with 50 milking daughters.

"It's clear from the very early indications that we have had since we launched DNA-tested bulls in our new Bull Book in February that UK dairy farmers understand the advantages. Genomics offers the opportunity to make far greater improvements in the herd, albeit by sacrificing a few degrees of reliability."

Genomically proven Ian, who has 72% reliability on his US proof, has figures of +3.84 mammary, +3.8 udder support and +4.3 fore udder attachment. He is available at £19/straw direct from Bullsemen.com.

RABDF calls for Milk Regulator


Spread the Cost of Protein in Dairy Rations


Cogent Strengthens Team to Meet Growing South West Demand