Best Value Holstein Sexed Semen from Silky Powerplay
08/03/09
Semen from Silky Powerplay – from the same family as the acclaimed premier sire Silky Gibson – is now available sexed at a price of just £26 a straw. His proof and price positioning make him "the highest type, best value sexed bull on the market", claims Semex UK.
Powerplay Wyena Silky Dottee 34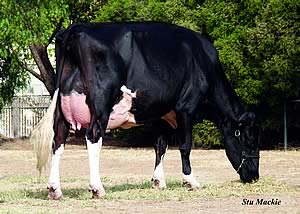 Out of Silky Storm Impala, and sired by Summershade Inquirer, his Type Merit is considerably higher than his nearest rival in the same £25 to £30 per sexed straw price bracket. Where Powerplay comes in at 2.69 TM, his nearest rival has one of 2.13, but Powerplay is £2 a straw cheaper. After that the TM scores of the other bulls drops below 2.00 with the average score for the group being just 1.60. However in nearly every case the price of the semen is higher than Powerplay.
This demonstrates that the choice of sexed bulls for this price band is almost entirely production-orientated, with few, if any, high type bulls being available, says Semex.
"Farmers who don't want to pay more than £30 for a straw of sexed semen but who also want a high type bull have had limited choice up until now," says Semex's genetics manager Willie Tait. "We have deliberately priced and positioned Powerplay to fill this gap in the market."
Over and above his impressive type proof Powerplay has a UK production score of +352 kgs milk, with +18kgs fat and +8 kgs protein. He has a mammary score of 2.61, a feet and legs rating of 1.92 and a somatic cell count of -9. Desirable milking speed and temperament add to the appeal of this value for money sire.
"The bull produces flat-boned, clean dairy cows with good feet that are ideal set to the leg and udders that are silky-textured with a strong centre ligament and with longer, ideally placed teats," says Mr Tait.
Although available in non-sexed form before, Semex believes that his availability in sexed form will show the real value of this well-balanced bull for many UK dairy farmers.
"We have been selling him at this price ever since the National Holstein Show in mid February and we have had a very good uptake of semen," adds Mr Tait.

Genomically Proven Shottle Son Now Available in UK - Regancrest Shottle Ian


RABDF calls for Milk Regulator


Spread the Cost of Protein in Dairy Rations