Cogent HerdPLAN to Slash Breeding Costs
04/03/09
Dairy farmers who are prepared to make a commitment are being offered a deal that could halve the cost of semen and give them access to some of the country's leading bulls for a fraction of their list price.
Hugh Pocock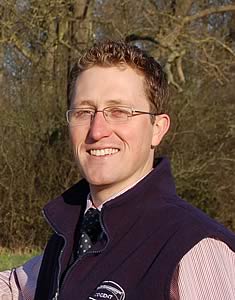 The scheme, called HerdPLAN, has been launched by British breeding company Cogent and has two key principles at its heart. The first is a switch to pricing on a per cow rather than a per straw basis, and the second is a payment structure which involves 12 monthly payments through the year – effectively offering the farmer interest-free credit.
This guarantees to the farmer exactly what his outgoings will be for the year, and is doubly attractive for block calving herds which inseminate near the beginning of the period, but won't be paying for much of their semen until several months later.
"We feel that the time is exactly right for the launch of HerdPLAN as we see the industry as desperately needing stability and predictability during uncertain times," says Hugh Pocock, UK sales and genetics manager with Cogent. "Farmers are tired of seeing both milk and input prices fluctuating wildly so our aim with HerdPLAN has been to develop a structure that both guarantees stability and offers exceptional discounts.
"The pricing structure is tiered, but if you take a typical dairy herd with 100 cows to inseminate, the flat rate fee will be just £22 per cow, irrespective of which bull is used. For this fee, the farmer will receive two straws of semen of his choice for every cow, which will leave most of them with straws to spare, as the national average usage rate is lower than this figure.
"Once the farmer signs up to the scheme, he can choose any bull that is available, so if he selects a bull which sells at £24, he will be receiving £48 worth of semen for just £22.
"Larger herds can receive even greater discounts, so the scheme has the potential to cut thousands of pounds from their semen bills," continues Mr Pocock. "And for those who have joined the growing numbers who use sexed semen, there is an alternative option for them, which supplies a proportion of sexed semen as part of the deal. The package which includes a sexed option is called HerdPLAN XS.
"An added attraction of either scheme is that if the price of a bull increases for any reason, the farmer will pay exactly the same as before – which all helps to explain why the scheme has proved so overwhelmingly popular during its pilot period."
Other perks include free AI consumables for farmers under both levels of the scheme and free access to the HerdMATE computer breeding package. Both young sire semen and beef semen can also be built in to the monthly payment structure.
"We're delighted that Cogent's continuing business success has enabled the company to devise such a generous scheme," says Mr Pocock, "and the fact that we see a serious need for commitment to the industry in order to generate genuine long-term stability for farmers has been our driving force."

Genomically Proven Shottle Son Now Available in UK - Regancrest Shottle Ian


RABDF calls for Milk Regulator


Spread the Cost of Protein in Dairy Rations