Air Conditioned Cab Features on Latest McCormick Utility Tractor
03/02/09
Drivers of the latest McCormick utility tractor could be forgiven for thinking they go to work on a bigger model thanks to a high standard of equipment and specification that includes a spacious cab with air conditioning.
McCormick's 57hp utility tractor - the CT65U - makes a handy yard machine with its good manoeuvrability, multi-speed shuttle gearbox and compact size.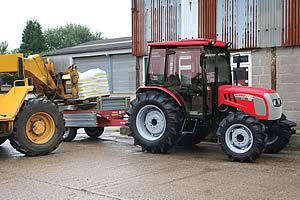 The McCormick CT65U is powered by a 57hp Mitsubishi diesel engine and drives through a 32x16 speed transmission. It slots into the range above the 28hp to 47hp McCormick 'CT' hydrostatic compact tractors and 35hp to 54hp 'GM' gearbox compacts, neatly bridging the gap to the 74hp to 93hp C-Max full-size utility tractors.
"The CT65U is a small tractor but it comes with a very generous specification and is built to handle serious work," says product specialist Paul Wade. "I see it being used as a yard tractor on a dairy farm or as a workhorse machine on a horticultural unit. It should also appeal to larger 'hobby' farmers or people with a lot of paddocks and other ground to maintain."
Despite its 'utility' tag, the McCormick CT65U provides a civilised working environment. The spacious cabin provides plenty of headroom, the large door opening and side-mounted gear levers make it easy to get on and off and there is good visibility all round through the big windows.
Once in the seat, the driver is presented with a simple instrument panel and ancillary control layout.
"For rear-mounted implements there are straightforward manual controls for the 1750kg capacity three-point linkage, including a fast lift/lower switch – a feature usually found only on bigger tractors," points out Paul Wade.
The fully-featured implement hitch also provides draft control for soil-engaging implements in addition to the usual position and mixed settings, while claw ends for the lift arms make hitching easier.
Three-speed power take-off ensures the tractor can handle all manner of implements and operators can either utilise the 2.5-litre Mitsubishi engine's full power output at 540 and 1000rpm shaft speeds, or use the 540E setting for less demanding implements and run the engine at a slower, more economical speed.
"Unlike other the tractors of this size that make do with a dry pto clutch, the McCormick CT65U has a multiple wet-disc clutch, together with electro-hydraulic control," adds Paul Wade. "That makes it quick and easy to engage or disengage the pto while protecting the driveline and implement from the sudden torque surges that a manual clutch can generate."
In other respects, the tractor is kept nice and simple – there is mechanical engagement of the diff lock and front axle drive, for example, because they are less often used on the tractor of this size.
Steering is light but positive thanks to the twin-ram hydrostatic system and with 55deg of steering angle at the portal front axle, the McCormick CT65U is a highly manoeuvrable tractor that can be worked with ease in and around buildings and other restricted areas, as well as in open fields.
McCormick's network of local dealers can provide full details of the tractor, which has a retail list price of £23,987.
McCormick CT65U specifications:
Engine - Mitsubishi 2.5-litre diesel – 57hp
Drive - 32 forward, 16 reverse (including creep speeds)
Reverser - Mechanical shuttle
Hydraulics - 53-litre/min total, 35.6-litre/min at remotes
Linkage - 1750kg capacity, draft, position and mix, manual controls including 'one shot' quick lift/lower.
PTO - Three-speed (540rpm, 1000rpm, 540rpm Economy), multiple-wet plate clutch, electro-hydraulic engagement.
Cabin - Standard with suspension seat, air conditioning.
List price - £23,987 (January 2009)

Claas Mowing Flexibility with New Centre Swivel Mowers


New Quartet of Triple Mowers from Claas


New Data Tagging System for Bales Provides Full Traceability