Claas Mowing Flexibility with New Centre Swivel Mowers
28/01/09
CLAAS has introduced a new range of centre swivel trailed disc mowers to compliment its current trailed and mounted range.
Claas Disco 3500 TC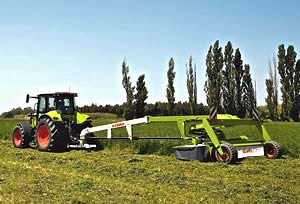 The new DISCO 3100 TC and 3500 TC mowers have working widths of 3.00m and 3.40m respectively and feature a drawbar that swivels centrally in order to provide a seamless transition between working on the right or left hand side of the tractor.
Unlike other centre swivel mowers which use a double-acting ram, on the new DISCO 3100 TC and 3500TC two single acting hydraulic rams are fitted either side of the drawbar.
The main benefit of this arrangement is that it then allows the mower to be exactly set-up to the track width of the tractor. Where each ram connects to the mower, a series of mounting holes enable the ram extension length to be shortened or lengthened, thereby altering the swivel angle of the mower. This therefore alters the working width so that it matches the tractor's track width, something that is not possible with a single double-acting ram.
Both the DISCO 3100 TC and 3500 TC are fitted with the new CLAAS P-CUT cutterbar which is designed to provide an extremely even and clean cut. Drive to the discs is through a smooth running, low-wear transmission with an individual drive to each cutting disc.
The mowing units are suspended on a parallelogram linkage system whereby the unit is then pulled, rather than pushed, by the trailed chassis. Both mowers are also fitted with the CLAAS ACTIVE FLOAT hydro-pneumatic system that allows the ground pressure to be quickly and easily changed from the cab according to conditions.
The P-CUT cutterbar itself is manufactured from high-strength steel and incorporates robust cutterbar skids with Hardox inserts between each skid. The underside of the cutterbar also incorporates a series of groves that funnel away any build-up of soil for a cleaner cut.
Each cutting disc is protected by the unique SAFETY LINK drive protection system where in the even of an obstacle being struck, defined shear point will protect damage to the blade and drive system. In addition, the cutting discs also use the CLAAS QKC (Quick Knife Change) system that allows blades to be quickly changed without using tools.

New Quartet of Triple Mowers from Claas


New Data Tagging System for Bales Provides Full Traceability


Trimble Introduces New GPS Receivers for Agriculture