Trimble Introduces New GNSS Package for Precision Agriculture
21/01/09
Trimble today introduced its latest Global Navigation Satellite System (GNSS) guidance product that offers a wide range of precision agriculture applications in a single package.
New FmX Display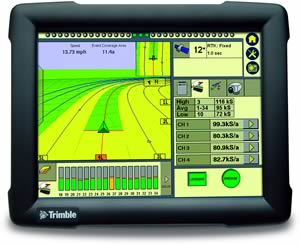 Trimble's new AgGPS® FmX™ integrated display is the first display system in the industry today to work as either a stand-alone manual guidance system or as part of an automated guidance, implement control or steering system.
Farmers can use the FmX display for a variety of their GNSS control needs including applications that require one or two receivers, such as vehicle guidance, a pull-behind implement or leveling and drainage equipment. It integrates easily with the Trimble® AgGPS Autopilot™ automated steering system, TrueTracker™ for precision guidance of an implement or with the FieldLevel II system for dual and tandem scraper control. Farmers can also vary crop inputs, control a planter, map fields and view video camera input of field operations—all with one display.
The FmX touch screen display is 12.1 inches, approximately 35 percent larger than the industry standard 10.4-inch screen, yet the display requires no more space in the cab than its predecessor, the AgGPS FieldManager™ display. Crisp graphics and a brighter screen make the FmX easier for the operator to see and interact with the applications being controlled.
In addition, Transcend™ technology, a proprietary Trimble positioning capability, is also integrated into the FmX integrated display, providing users with high accuracy, flexible solutions for the most challenging agriculture applications and environments. Transcend features the latest generation of GNSS chipsets and processors.
The FmX features two integrated, high-performance GNSS receivers, so no additional receivers are necessary to control a tractor and implement. Optional 450 or 900 MHz radios are also integrated into the display for real time kinematic (RTK) applications, along with support for up to four external video cameras. Both receivers include GPS and GLONASS ( L1/L2/G1/G2) capability, offering a range of accuracy levels up to RTK GLONASS. The benefit to farmers is that a larger number of satellite signals can provide more robust positioning, even in difficult GPS or GLONASS environments. .
"The FmX will help farmers gain efficiencies across their complete farming cycle," said Erik Arvesen, Trimble's general manager of Agriculture. "The integrated components allow farmers to purchase the FmX at a functionality level and price that fits their needs today, with the option to easily upgrade to higher levels of performance as needed. We are packing a lot of capabilities and value into a single package."
The Trimble FmX integrated display is expected to be available in February 2009. The FmX integrated display starts at US$5,995 MSRP and options are priced separately. For more information, call 1-800-874-6253 or visit www.trimble.com/agriculture to find a Trimble reseller.

Siân Pritchard Takes Over at Kuhn UK


Trimble Announces More Autopilot and EZ-Steer Platforms


McCormick Wins Big Order for New Tractors from Hire Firm