McCormick Wins Big Order for New Tractors from Hire Firm
06/01/09
One of Britain's leading farm equipment hire companies, Hawk Tractors, has placed an order for almost 50 of McCormick's new-generation XTX165.
Hawk's customers hire power units like the McCormick XTX165 to expand their own tractor fleet for busy times of the year or to tackle specific jobs using a more powerful tractor than they can justify owning year-round.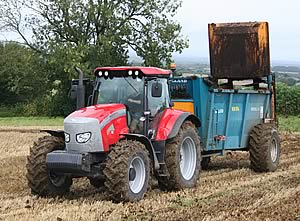 Yet this consignment is only part of a total order for more than 150 tractors that encompasses several McCormick models from the 136hp MC135 Power6 to the 214/228hp TTX230.
The tractors will be used by Hawk customers throughout the country, together with another 35 to 40 McCormick power units from this year's fleet.
"This will be our eighth consecutive year running a fleet of mostly McCormick tractors," says John Smith, Hawk Tractors operations manager. "It's never a done deal because we always review our options each year but we're happy to be working with McCormick again for 2009."
The Hawk fleet of more than 220 agricultural tractors, plus telescopic handlers, is managed from the Hawk Group's headquarters at Loppington near Wem in Shropshire.
Some customers use the machines to supplement their own tractors when extra units are needed at certain times of the year – for potato planting and harvesting, for example. Others take a more powerful tractor than they can justify running year-round to tackle specific jobs such as forage harvesting and autumn cultivations.
"It's an economical way of getting a modern, up to date tractor," says John Smith. "There is no big capital outlay, routine servicing and repair costs are built-in and the hire charge qualifies as a business expense."
On top of that, he adds, the tractors are supported in the field by the local McCormick dealer that supplies the tractor, or by Hawk's own experienced service team.
McCormick's 136hp MC135 Power6 and MTX135 tractors will make up about a third of Hawk's 2009 fleet. Following the recent 'Tier 3' upgrade for the compact Power6 machine, these popular 'workhorse' tractors now share the same BetaPower six-cylinder engine with mechanical fuel injection.
At the other end of the six-cylinder power and performance scale, another 10% or so of the fleet will be made up of McCormick's three most powerful tractors, the TTX190, TTX210 and TTX230. These new-look models with their enhanced drivelines feature electronic fuel injection and engine management giving a power boost for pto work, along with powerful hydraulics and the advanced XtraSpeed semi-powershift gearbox.
The Hawk fleet will have more examples of McCormick's newest tractor, the XTX165, than any other individual model. This mid-range machine takes over from the popular MTX150 in Hawk's line-up, providing regular customers with a performance bonus from the tractor's higher power output and added features.
"After several years running the MTX150, I'm quite upbeat about this new model," says John Smith. "It still fits the bill for operators who want a tractor that's not complicated to use but I think they'll like having the additional power and new features."
Like all McCormick six-cylinder tractors, the XTX165 is powered by 6.72-litre BetaPower engine. And like the range-topping TTX machines, this power unit has electronically-managed common rail fuel injection that not only gives precise metering for good power generation with economy, but also a power-boost feature.
For draft work, the engine delivers peak output of 167hp. But for pto and transport operations, output automatically increases to peak at 171hp.
Matched to the 32x24 XtraSpeed transmission with its eight powershift gears, the engine's power and torque characteristics make the tractor a high performance machine with plenty of pull.
Operators will also appreciate the more powerful brakes and optional 50kph gearing, which can be used to ease off the revs for more economical road travel. They will also like the four-post cab with its fully-glazed doors filling both sides; it not only improves visibility to either side but also creates a light and airy working environment.
"These are all very practical improvements over the MTX150 we ran before," says John Smith. "I'm sure the XTX165 will deliver extra performance combined with the traditional McCormick down-to-earth appeal."

Claas Scorpion Fits Engine Immobiliser System


Kuhn Acquires Kverneland Baler Division


New Profitable Farming Products for LAMMA 2009