New Profitable Farming Products for LAMMA 2009
21/12/08
After a very successful show last year, the Profitable Farming Company will again be exhibiting at this January's LAMMA Show where they will be introducing two new products.
The Bull Flex has been designed specifically for all sizes of bale, and is designed to give up to five years life.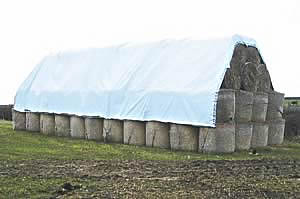 Bull Flex bale tarpaulins
With the high price of hay and straw, the Profitable Farming Company will be launching a new range of bale tarpaulins, the 'Bull Flex' which will augment the current 'Performer' range that the company has successfully sold for a few years.

The new 'Bull Flex' range is designed to be easy to use and have a far longer life than many 'off the shelf' tarpaulins, but provides the option of a lower cost alternative to the 'Performer' range, which if well looked after will still last on average five years.

The bale tarpaulin itself is made from a heavy-duty 7.8oz silver/white material, that is typically 0.04mm thick, giving it a tensile strength of 97kg. For tying down, instead of the grommets found on cheaper tarpaulins, that can be easily torn-out, the 'Bull-Flex' is fitted with high strength 5cm wide webbing tie-down loops with triangular reinforcing tabs that are sown-in at 90cm intervals along the tarpaulin. The straps mean that when tied down, the strain is spread over a grater area of the tarpaulin, giving it over 300% more strength compared to grommets. As an option, the 'Bull Flex' tarpaulin can also be specified with the 'Super Cinch' tie-down system used on the 'Performer' range.

In addition, as on the 'Performer' range, the ends of each tarpaulin also incorporate a special tie-down draw string to prevent the ends of the sheet flapping. For extremely exposed sites or where maximum tie-down strength is required, along each side the hem is sown to create a pocket into which plastic water pipe can be inserted to provide increased rigidity.

The new 'Bull Flex' range of bale tarpaulins are available in a wide range of widths from 4.20m up to 10.7m and are 16.0m long.

Precision baling with Baler's Choice
At LAMMA 2009, the Profitable Farming Company will be announcing the introduction of a unique new tagging system for the Baler's Choice preservative application system for big square balers. This will provide farmers, merchants and users with the ability to not only create yield maps for grass production, but electronically access complete traceability for each bale produced, showing where and when the bale was produced, moisture content, the amount of Baler's Choice preservative used and the bale weight.

Further details on the system will be announced at LAMMA.

Claas (UK) Trophy 2008 for Staffordshire Graduate


John Deere Sponsors 2010 World Equestrian Games


John Deere Announces More New Compact Tractors