Home Sweet Home for Weeton Jackson
30/01/09
UK Holstein breeding legend Weeton Jackson EX *RC passed away on the 16th January 2009, at the ripe old age of 14 years.
Weeton Jackson Daughter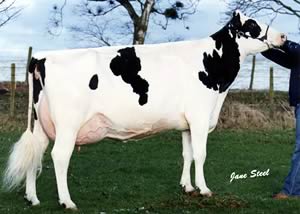 He came home to Weeton for a well earned and comfortable retirement after many years at A.I. collection centres, as he had decided his productive days were over, having become disenchanted with semen collection! Indeed, the last of that semen sold out in early 2008.
Invigorated by the fresh Lancashire coastal climate, and the company of hundreds of very good looking females, his enthusiasm for the job returned and a couple of thousand straws of top quality semen were collected on farm at Weeton, and will soon be available on the Farmer to Farmer website.
Jackson was of course the number one Type Merit bull in the UK for over four years, and his remarkable proof today still makes him one of the greats. Hugely reliable with 7531 daughters in 1423 herds, Jackson retains a +2.15 Type Merit Score complemented by a +2.51 for Mammary system. He is positive for all the management traits (lifespan, fertility index and SCC) as well as milking speed and temperament, and transmits a massive +014% fat.
Tony Jackson and family, who farm at Dumfries, have over 40 daughters of Jackson. When restocking after foot and mouth they purchased a herd with four daughters; one is now excellent, a sixth calver who has produced over a hundred tonnes of milk. They liked these four so much they used Jackson heavily and were "delighted to have many VG 2yr olds"

Large Herd Breeding Power


Sons of O-Bee Manfred Justice from Dairy Daughters


Ian Potter Warns of Perils Facing the Dairy Sector