Large Herd Breeding Power
19/01/09
Cogent strengthens its line up of bulls with yet another two exciting Holstein sires bred from their nucleus herd.
Starcross Prestwick Galantane GP82.
Bred by DM Beresford & Partners, Cheshire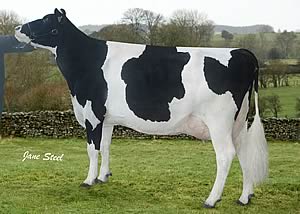 The 2006 Gold Cup winning herd continues to produce the goods from its 320 cow setup. The large herd environment is an ideal testing ground for any bull mother giving greater robustness for sons tested across the UK.
Cogent Prestwick emerges from an extremely robust nucleus cow, Cogent Mattie Pizzazz VG85 stemming from the heart of the Keystone 'P' family. The Keystone 'P' family is renowned for breeding bulls with solid type, high production and great longevity, with greats such as Keystone Potter.
Prestwick offers high type at +2.1 in combination with milk at +400kgs and solid components. The Prestwick daughters excel for body condition despite being high yielding cows and also have good longevity. Another real feature of the Prestwick daughters is their outstanding locomotion +2.6 and steep foot angle +2.9.
Cogent's Progeny Evaluator, Simon Moseley, comments, "The Prestwick's are ideal cubicle cows. Medium sized, carrying condition, clean boned and with very strong top lines. Their shallow, well attached udders are the sort to last."
Cogent Avenger enters the stud bred from Cogent Fatal Andra VG89. Andra was an outstanding individual within the nucleus herd, a favourite amongst all who worked with her.
Avenger is an incredibly consistent type transmitter at +2.2 TM. His daughters carry beautiful udders scoring +2.3, that are extremely high at the rear +2.4, with very strong ligaments and fore udders. He transmits longevity and daughter fertility above breed average combined with high milk +467kgs.

Simon Moseley has inspected many Avenger daughters. Simon comments, "I have been extremely impressed by the consistency of the Avenger daughters. They are strong, medium sized ideal cubicle cows. Where they are really outstanding is their udders; attachments are excellent, and they have very silky texture."

Avenger is bred from a U.S. cow family tracing back to Conant-Acres Mark Anna VG89 who has been a source of successful proven bulls over a number of generations.
One of the stars from the last proof run, nucleus bred Cogent Loader EX92, also added 20 daughters to his proof. He remains the highest UK-bred and proven sire on both locomotion and feet and legs scores. Loader boasts a massive +3.1TM with +3.4 on locomotion and +3.1 legs and feet with +2.4 mammary and +0.1 lifespan.

Sons of O-Bee Manfred Justice from Dairy Daughters


Ian Potter Warns of Perils Facing the Dairy Sector


Longevity and Fitness the Common Theme in Holstein Rankings