Unprecedented Bullsemen.com Showing in January 09 Holstein Rankings 15/01/09
Six bulls in the top 10 of the January 2009 £PLI rankings, plus one of the first O-Bee Manfred Justice sons as a top 30 new entry, gives Bullsemen.com an unprecedented and unrivalled position in the latest Holstein bull proof run.
Laudan Xena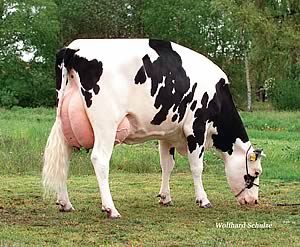 Laudan maintains his position at number 2 in the rankings with an increased PLI of £229, a milk production of 642kg and a Type Merit of 2.4. He confirms his all round strength with the unbeatable Lifespan Index of +0.8, which means his daughters are on average surviving for almost a full lactation longer than the average cow.

Laudan shares his German heritage with fifth placed Leif and Gibbon-son Gibor who enters the top 10 for the first time at number eight. Like Laudan, both Leif and Gibor are typical examples of German Holstein breeding, with very good Lifespan, Fertility and SCC figures and all the characteristics for breeding cows that will be long-lived and profitable in a modern dairy farming environment.

Of many other significant performers from the Bullsemen.com stud, the American sire Classic Merrill Lynch from CRI, at number 10, again stands out for his outstanding fertility index, which rises to 7.3 and is derived from a global proof based on a phenomenal 44,897 daughters in 9,654 herds.

The January 2009 proof run is notable for the first appearance of sons of the remarkable O-Bee Manfred Justice, who still tops the £PLI rankings, and Bullsemen.com has one of these sons in the top 30 new entrant Wa-Del Rice Holman. From an Mtoto dam, Holman enters the rankings with a PLI of £167, 562kg milk, 1.56 Type Merit and outstanding fitness traits that contribute to a Lifespan Index of +0.2 (-32 SCC, +3.4 Fertility). He also has a calving ease figure of 6% making suitable for use on heifers.

Bullsemen.com has 10 bulls in the top 30 ranked by UK £PLI, double the number of any other semen company, and claims the best "value for money" genetics in terms of PLI points per £ spent.

Semex Dairy Conference 2009 - Long Term View of UK Dairy Industry Needed


Lakemead Rancher is New Number One British Friesian


Sons of O-Bee Manfred Justice Enter the PLI Rankings