A Holstein Breeder's Bull at a Commercial Price
15/12/08
The latest offering from Dairy Daughters has been described as 'a breeder's bull at a commercial price' and he comes in the form of Crockett Chicago.
Etxalde Chicago Perla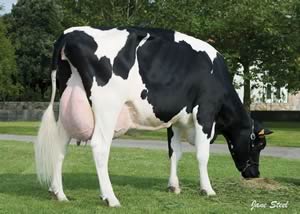 Chicago is one of the earliest Calbrett Champion sons and his Profitable Lifetime Index of £138 places him well within the top 100 PLI sires.
He combines good production at 656kg milk, 18.9kg fat and 20.3kg protein with an overall Type Merit of 2.71. This reflects a 'no holes' linear profile, including particularly good udder and body traits, while he also brings desirable figures for lifespan (+.2) and cell count (-8).
With Startmore Rudolph as his paternal grandsire and a maternal line which begins with Crockett-Acres Durham Mae (by Durham) and goes through a Bellwood and a Leadman to some of the greats of the breed, his pedigree will be a further attraction.
But perhaps the greatest surprise is his price, which Dairy Daughters are holding at just £12.50.
"Like every industry, agriculture has to deal with these difficult, recessionary times and farmers are looking for value for money more than ever before," says managing director Evans Drayton. "By keeping our overheads low we have kept our prices at an extremely competitive level, which we feel lies behind the company's growing success."

New Export Manager Starts at Cogent


Black & Whites Sell to 20,000 Guineas at Borderway


RABDF Council Member Awarded BBC Farmer of the Year