01/12/08
With the safe use of pesticides being very much in the spotlight, it is now vital that advisers, farmers and growers have access to the most up-to-date information on pesticide use in agriculture, horticulture, pest control, forestry and amenity.
AThe 22nd edition of The UK Pesticide Guide, is now available and is also accessible online at www.plantprotection.co.uk. It features over 1,300 products including 250 product replacements and introductions since the last edition, plus five new actives: amisulbrom, bromuconazole, ipconazole, mepyl dinocap and spirodiclofen, as well as several novel mixtures of existing actives.
"Increasingly complex and demanding legislation has driven the need to reduce the environmental impact of pesticides and raise the professional competence of those who store, advise and use them," advises Mr Martin Lainsbury, the new editor of The UK Pesticide Guide. "We aim to provide an independent practical guide to the products available on the market, their use and the controlling legislation around them. Access to up-to-date information is increasingly important to meet the requirements of assurance schemes and cross-compliance in various government initiatives. Each year we aim for continuous improvement to ensure that the Guide remains topical and informative."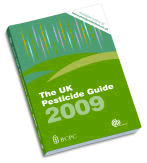 Some of the introductions seen in this edition reflect the industry-wide obligation to replace formulations containing nonylphenyl or octylphenyl ethoxylates. Modes of action codes are included to address the increasing problems associated with managing pesticide resistance, and over 500 new or amended Specific Off-Label Approvals (SOLAs) are available.
The online version, www.plantprotection.co.uk, which was launched at the beginning of 2008 has been positively received by customers.
"www.plantprotection.co.uk offers all that appears in the book plus more," advises Mr Lainsbury. "It is regularly updated throughout the year and provides users with the latest product news and developments. The easy-to-use search menus also allow customisable searches and there are links to SOLA notices and the PSD online database for MRLs."
BCPC and CABI, are the joint publishers of The UK Pesticide Guide 2009 which costs £42.50. Copies will be available in January but may be ordered NOW by contacting: BCPC Publications Sales, 7 Omni Business Centre, Omega Park, Alton, Hampshire, GU34 2QD UK. Tel: +44 (0) 1420 593 200 Email: publications@bcpc.org. Credit cards are accepted. Secure orders can also be placed on-line from the BCPC website on www.bcpc.org/bookshop.
For further information and to subscribe to the online version log onto www.plantprotection.co.uk.

Farmers Warned to Order Spring Fertiliser Before It's Too Late


Barenbrug Invests in New Trial Site at Cropvale


Acidosis Health Warning for Livestock Farmers