05/11/08
David and Helen Brass from the Lakes Free Range Egg Company near Penrith, Cumbria have been nationally recognised as leading lights in the farming industry.
Helen and David Brass with the
Poultry Farmer of year award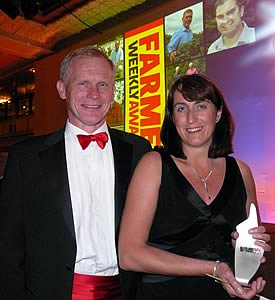 This week they were crowned with the "Poultry Farmer of the Year Award" at the Farmers Weekly Awards 2008, held at London's Grosvenor House Hotel.

The awards, hosted by TV presenter and sports journalist Clare Balding, honoured the very best of British farming in front of an invitation-only audience of more than a thousand of the farming industry's movers and shakers.

In the Poultry Farmer of the Year Award, (sponsor EB Equipment), David and Helen impressed the judges with their high welfare and environmental credentials, the care they take with their producers and their inspiring business plan. "David and Helen's dedication and focus on the free-range egg market is second to none. They are reaping big rewards from their green ethics" said the judges that included last year's winner Paul Kelly, Farmers Weekly writer Lucy Knowles and John Newton from ADAS.

David and Helen Brass initially sold free range eggs to local shops and not long after, they introduced their own packing plant. Increasing their free range sales nearly twentyfold in the last ten years to £10million, they now sell more than 100 million eggs a year to McDonald's as well as Morrison's and local suppliers. It was their animal welfare and environmental impact that was key to working with McDonald's, who were looking for a European "flagship farm".

High ethical standards often conflict with running a profitable egg business but David and Helen simply used them to create added value. Unique to their company is the requirement for all its producers to follow biodiversity action plans for the planting of trees, hedges and wildlife, something they have developed with the Farm Wildlife Advisory Group (FWAG).

"We have been planting trees since the late 1990s. We pay our producers for trees they plant and FWAG recommends the type of trees and manages them for us," says David. "Willows and poplars grow quickly and are used for cover. The trees benefit production, help prevent feather-pecking and encourage the birds to venture on the range outside." In 2006 alone they planted the equivalent of 91 football pitches!

Another benefit of focusing on green issues is lower energy costs. By stipulating the use of naturally-ventilated houses they can improve energy efficiency by up to 70%. As a consequence, they believe they have the lowest carbon footprint of any egg producer in the UK.

Their ethos is firmly in favour of the environment and the welfare of their flocks and this has been carried through in the creation of their own brand of eggs called Natures Nest Eggs. These are very ethical eggs - "for each dozen eggs sold, a penny goes to local wildlife enhancement projects protecting red squirrels, dormice and osprey in this area," says David.

The couple also provide substantial training for their producers - £50,000 a year for training plus funds for producer days that provide opportunities to learn from guest speakers including vets and nutritionists.

It's not just staff the Brasses are keen to educate, they also work with The Lake District National Park education department, showing children around the farm, to help spread the word on where eggs come from.

David and Helen said, "Winning this award is a testament to the team we have behind us, from the packers to the farmer producers we work with. Looking to the future, we want to progress in the same vain, with high ethical standards at the heart of our ethos."

Awards Director, Debbie Beaton said "The standard of entries this year has been truly outstanding. Farming has more than its fair share of challenges and all of our finalists are typical of the resilience and innovation that makes farming such a vibrant industry." David and Helen's dedication to the free range egg sector undoubtedly deserves to be rewarded was the conclusion of the Farmers Weekly.

This is the second award they have received this year, earlier in May they received a Big Tick Award from Business in the Community for "Impact on Society" and positive benefits to the Rural Community.



Basil Comes Home to Roost


Environmental Stewardship: a much needed life-line for farmland birds


Levy Money Should Not Be Spent on Red Tractor