05/11/08
Basil the cockerel has come home to roost on a Northumberland farm after being evicted by officials from a Gateshead housing estate.
© photo by Jane Coltman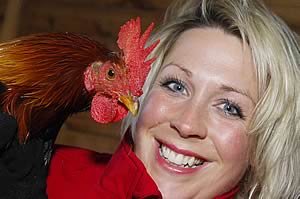 Basil was found in a garden in Whickham six months ago and homeowner Joyce Callaghan took him under her wing until Gateshead Housing Company told her he had to go following a complaint about his early morning crowing.

After a huge campaign to save him on social networking site facebook attracting more than 1,300 signatures failed to save him, Claire Thorburn stepped in and offered Basil a new perch on the 1,200-acre Bamburgh farm where she lives with partner Francis Watson-Armstrong and his three teenage children.

Claire's own cockerel died only two weeks ago and she was anxious to find new male company for her 23 hens.

Since he has been introduced to his new home, Peckingham Palace, along with the ladies, he has been happily cock-a-doodle-doing – with only horses being awoken by his early morning calling.

"He seems to have settled in remarkably well, said Claire, who has also adopted Basil as the mascot of her PR company, Impact.

"We have plenty of space here, and Basil can crow to his heart's content without annoying anyone. And as he gets used to his new surroundings, I'm sure he'll soon rule the roost," said Claire, 32.

Environmental Stewardship: a much needed life-line for farmland birds


Levy Money Should Not Be Spent on Red Tractor


Big tick for Sainsbury's Woodland Eggs