John Deere Launches New 5R Series Tractors
14/11/08
Featuring higher horsepower and payloads, better ergonomics and improved operator comfort, John Deere's new Mannheim-built 5R and 5RN Series tractors have been designed to meet the needs of medium sized mixed farms, small arable farms and specialist growers.
John Deere 5100 R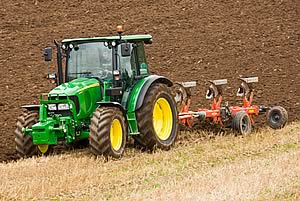 Based on John Deere's proven full-frame concept, these three new Premium tractors are rated at 80, 90 and 100hp, and feature the company's new tractor model designations.
Replacing the previous 5020 Series models, the new range lines up as follows – the Narrow (5RN) versions have a maximum overall width of 1.86m, and are particularly designed for orchards and vineyards with row widths greater than 2.50m:
| | | | | |
| --- | --- | --- | --- | --- |
| New models | Replacing | Engine hp (97/68/EC) | Transmissions | Transmission option |
| | 5620 | | | |
| 5080 R & RN | 5720 | 80 | 16/16 PowrQuad Plusor 16/16 AutoQuad Plus | 16/16 underdrive |
| 5090 R & RN | 5820 | 90 | 16/16 PowrQuad Plusor 16/16 AutoQuad Plus | 16/16 underdrive |
| 5100 R & RN | New | 100 | 16/16 PowrQuad Plusor 16/16 AutoQuad Plus | 16/16 underdrive |
The new 5R Series tractors' full-frame chassis design allows a 20 per cent higher payload and therefore the use of larger, heavier implements compared with the 5020 Series – the maximum permissible weight for carrying heavy implements has increased to 6600kg. This results in increased productivity and reduced costs per hectare.
John Deere 5100 R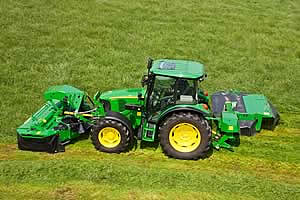 The tractors can also be optionally equipped with a front hitch, front pto and various front loader packages. The full-frame chassis carries the entire weight of the front loader and hitch, which relieves all the other tractor components from load stress.
All three tractors are powered by a 4.5-litre PowerTechE engine, which is certified according to Tier IIIa emission requirements. This two-valve high pressure common rail (HPCR) engine is well established on the 6030 Series tractor range, and delivers high levels of power, usable torque and fuel efficiency. For optimum combustion, the engine is equipped with electronic fuel injection, a distributed cooling system and an active charge air cooler.
An all-new slide-out radiator and a cruise control function also contribute to increased engine efficiency and performance. With seven per cent extra horsepower, this engine supplies twice the power boost of previous models and features a 20 per cent wider constant power range at 550rpm. High start-up torque and a 30 per cent torque reserve ensure that these tractors can cope with the toughest tasks.
Two transmission options are available. Both the basic 16/16 PowrQuad Plus and AutoQuad Plus transmissions feature four ranges with four power shifting gears operating between 3.3 and 40kph, and are available with a 16/16 underdrive option that allows speeds as low as 1.5kph.
The new, higher specification AutoQuad Plus transmission allows the user to work more comfortably as well as save fuel, because the transmission shift points can be pre-selected according to the application to ensure the tractor operates in the most fuel efficient gear.
For easier handling and optimum versatility, especially during front loader work, both transmissions feature an electric power reverser. The new declutch button is another operator friendly feature designed to provide more comfortable shifting, for example during road transport, without using the foot clutch. Further premium features such as single lever shifting, soft shift and speed matching as well as a parking lock are all included in the standard specification.
TechCenter cab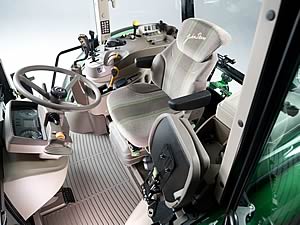 The newly designed TechCenter cab is tiltable and features 310 degree vision. Air conditioning and a new, comfortable deluxe seat with horizontal and vertical air suspension provide premium operator comfort at a significantly lower noise level of 74dB(A) under full load. Improved ergonomics include the telescopic and tiltable steering column and the new gearshift lever, which has a more comfortable shape and better functionality.
Other premium features include a dual gauge dashboard, driveline control centre in the right-hand B-post, a passenger seat, glass roof hatch, tiltable front windshield and four working lights on both the front and rear of the tractor. A number of storage compartments and a Field Office option make this cab a very comfortable workplace.
Maximum permissible weight of these tractors has been increased by 500kg. This means that the load sensing/pressure compensating hydraulic system, which features a constant flow pump, achieves a maximum lift capacity of 4.3 tonnes on all models. The hydraulic system immediately responds according to the amount of oil required to perform any particular task
As a result, the load on the engine is reduced, which also leads to improved fuel efficiency. The system is designed to accommodate up to three rear SCVs plus two optional SCVs with mid-mounted couplers. Maximum lift capacity of the front hitch is nearly 3 tonnes, to accommodate even heavy front-mounted implements.
Both the rear and front pto are electro-hydraulically operated via an oil-cooled multi-disc clutch for smooth engagement and enhanced durability. The rear pto provides 540/540E rpm as standard equipment, while a three-speed 540/540E/1000 rpm pto with changeable stubshaft is available as an option. The front pto runs at 1000rpm and operates anti-clockwise.
The tractors can be equipped with three different John Deere front loader models for a wide range of materials handling applications, making the most of the tractors' high capacity hydraulics, excellent manoeuvrability and visibility and integrated mechanical joystick. To create an even more powerful front loader package, functions such as front loader suspension, the time-saving MemoSystem and fast dismounting are optionally available.
Base UK and Irish list prices of the new John Deere 5R Series tractors, which will be available from January 2009, start at £38,584 plus VAT and 56,715 euros including VAT.

MF 8690 Wins Tractor of the Year at EIMA 2008


Case IH at EIMA 2008


New Case Puma CVX Features Continuously Variable Transmission