MF 8690 Wins Tractor of the Year at EIMA 2008
13/11/08
Massey Ferguson picked up a string of prestigious awards on the opening day of the EIMA Show in Bologna, with the MF 8690 taking the two top accolades of 'Tractor of the Year 2009' and the 'Golden Tractor Design Award'. The MF 3655F tractor also received a finalist award for the best Specialist tractor.
MF 8690 - Tractor of the Year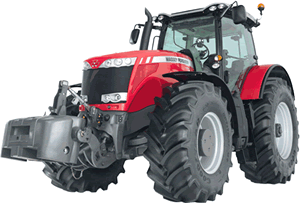 "Everybody at Massey Ferguson is tremendously proud and honoured to receive these important awards," says Richard Markwell, Vice President and Managing Director of Massey Ferguson, Europe, Africa and the Middle East. "This confirms that Massey Ferguson now offers its best, highest quality and most comprehensive range of equipment ever. The Company has built its reputation on pioneering new technology and now as we celebrate Massey Ferguson's 50th anniversary, these awards recognise its continuing commitment to developing world-leading products."
At 370hp, the MF 8690 is not only the world's most powerful conventional four-wheel drive tractor it is also the first ever to be equipped with the industry-leading e³ Selective Catalytic Reduction exhaust treatment, making it the cleanest emission tractor in its class as well as delivering unparalleled fuel economy. This new technology is also available on all five models in the complete MF 8600 range, which made its debut at EIMA.
MF 8690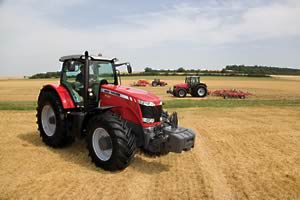 The MF 8690 was named as the 'clear winner' of the Tractor of the Year by a jury of journalists from 20 leading farming magazines from across the whole of Europe. Manufacturers cannot enter – the tractors have to be nominated by the jury and the competition prides itself on its independence and unbiased assessments. The wide geographical spread of the jury reflects how manufacturers now need to produce equipment to suit a wide range of crops and working conditions, says the award's organisers.
The jury votes for each of the finalists, awarding between one to seven points for each of the following features: Engine, transmission, standard electronics, hydraulics, cab comfort, innovative technical features, design and options. The jury considers price/hp ratio so important that this receives double points.
"We have always held this award in high esteem and have great respect for how the jury nominate and select each tractor," says Declan Hayden Vice President, Sales and Marketing for Europe Africa and the Middle East. "The combination of the Tractor of the Year 2009 Award with the Golden Design Award for the MF 8690 is an impressive achievement that demonstrates how Massey Ferguson continues to lead from the front and sets the technology benchmark for others to follow."

Case IH at EIMA 2008


New Case Puma CVX Features Continuously Variable Transmission


New GB Premises for McCormick, Landini and Valpadana