14/11/08
An industry wide initiative designed to expand local food from its current 1.5% to 10% market share within 10 years by exploiting the mainstream sector was launched in London yesterday, Thursday, 13 November.
Report authors: left, John Geldard and Henry Brown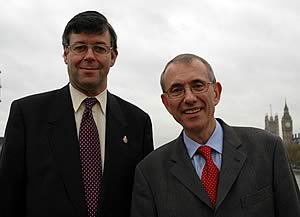 The venture is scheduled to increase local's value share from a current £2.34bn to £15.6bn, with annual growth in the order of 20% year on year.

The initiative was born following recommendations made in 'Supplying Local Food to Mainstream Customers', an 80 page report completed by Henry Brown, of Westley Consulting and Cumbrian farmer and local food hub pioneer, John Geldard. The document examines in detail local food's economic, environmental and social benefits to its respective communities together with demand from multiple retailers and foodservice operators.

After extensive research, the authors concluded that despite the economic downturn, retailers and foodservice businesses have continued to express strong interest in local which they claim is driven by consumers who are becoming increasingly discerning in the provenance and ethics of their food. Consequently, these mainstream customers provide a potentially massive opportunity for business growth and development for local producers supplying the best of British.

The report outlines 12 recommendations for implementation to achieve its forecast potential for local to expand more than six fold within the next decade. They include for strong and consistent leadership to promote long-term development, to increase the number of local food producers and scale up production, to establish more local food hubs to facilitate distribution, and to introduce action at retail level, for example improved in store merchandising and more local promotion to retail buyers and consumers.

Following unanimous industry wide support, backed by commitment towards involvement in implementing the report's recommendations, a steering group has been established to provide direction comprising sector leaders with expertise in local production, distribution and purchase.
Furthermore, ASDA is the first multiple to pledge its support for the venture by rolling out one of the report's retail recommendations from January 2009.

"We are overwhelmed by the industry wide support we've received, initially for the report, and also our subsequent recommendations which are designed to drive local to new heights," said John Geldard. "Agriculture has suffered a difficult passage during the last 15 years, however at the same time consumers have demonstrated a growing interest in their food and its origin. This trend has led some farmers to respond by adding value to commodity products and retailing direct at farmers' markets and newly established farm shops, outlets which have in turn created new opportunities for other local food producers.

"Our family farming business has helped to drive that pioneering interest in local with the launch of Plumgarths Hub in 2001 which features two blue print local sourcing initiatives working with ASDA and Center Parcs, and supplying more than 300 branded products from over 30 local suppliers.

"Over the years, we have witnessed a burgeoning demand for local, along with its positioning in the market place, and while we are operating in a new and challenging environment, our research findings reflect IGD's recent observations that shoppers are scrutinising value, yet they are not compromising their values.

"Farmers and food producers are prepared to look at all options to develop sustainable businesses, which in turn contribute towards a robust rural economy. We look forward to developing this initiative which is designed not only to benefit farmers and food producers but also retailers, private and public sector caterers and above all consumers."


Supplying Local Food to Mainstream Customers: the authors

Henry Brown worked for MAFF for 30 years during which period he established and managed the Market Task Force unit. Westley Consulting provides consultancy advice to private and public sector organisations, and will continue to develop this initiative.

John Geldard is a Cumbria livestock farmer. He established Plumgarths Hub, a local sourcing venture in 2001. It includes a farm shop, foodservice and two blue print local sourcing initiatives working with ASDA and Center Parcs.

The steering group membership is as follows: chair, John Geldard; Alastair Beacon (Westley Consulting Ltd); Nick Davies (Transfresh); Steve Ellwood (EFFP/Smith & Williamson); Liz Snaith (Liz Snaith Consultants Ltd); Stuart Thompson (EFFP); Charles Trotman (CLA); Douglas Wanstall (Bank Farm); Lee Woodger (NFU).

Levy Money Should Not Be Spent on Red Tractor


Is Food Production About to Emerge as a New National Priority?


Women in Agriculture: The Critical Food Producers