Science for the Future Conference
10/11/08
A ground breaking conference to highlight the importance and relevance of agricultural science in the modern world is being organised by the Yorkshire Agricultural Society in conjunction with the Central Science Laboratory (CSL).
A teacher delegate taking part in the 2007 conference.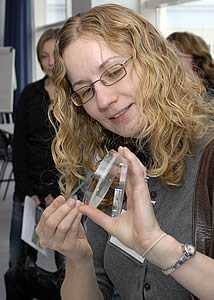 Entitled "Science for the Future", the one-day conference takes place on Thursday 20 November at CSL, Sand Hutton, York and is for secondary school teachers of science, geography and social science, including senior science technicians and heads of science. Delegates from as far afield as Redcar, Bradford, Wakefield, Whitby, Settle and Manchester have already signed up to attend.
The Society's Chief Executive Nigel Pulling said he was delighted the Society was once again involved in the event. "Now more than ever before, the agricultural industry is in the spotlight for its role in food production. Farmers face increasing pressure to increase food production which is set against a global need to reduce artificial inputs and sustain our planet. Clearly science has a vital role to play in helping reconcile these two issues, so for teachers to be able to speak directly to those at the cutting edge of development is a huge benefit and totally relevant in today's world."
The Society has a pro-active education department which runs a series of events for the education sector year round to emphasise the important role farmers play in producing our food and looking after the environment It is best known as the organiser of the annual Great Yorkshire Show and its sister event, Countryside Live.
The conference includes a packed programme of lectures and topics which will be presented by CSL scientists. Subjects under the spotlight include land use and sustainable bio-renewables, managing honey bee health and GM crops.
Delegates at the conference, which is free, are also given the chance to tour the Central Science Laboratory. This is the third year that the conference has been held.

Cattle Handling Clinics at English Winter Fair


Walkabout GPs to Give Farmers Free Health Check


Borderway Agri-Expo 2008 Lives Up To Expectations