Lancashire Sheep Producer Wins Top Award
08/10/08
Wilson Bird who manages the sheep enterprise at Myerscough College at Bilsborrow near Preston, has won the EBLEX Most Progressive Flock Award for the flock of pedigree Suffolk sheep.
Wilson Bird (right) with his award winning ram and EBLEX regional manager
Clive Brown.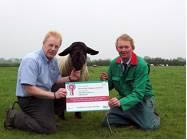 Organised through the Sheep Better Returns Programme, this award is presented to the producer whose performance recorded flock has shown the most impressive improvement in genetic merit over a 12 month period, within the breed.
The college flock is no stranger to winning this award – having claimed top spot for the Suffolk breed in 2006. The purchase of top ram Perrinpit Boy Wonder two years ago, who has an index of +£4.16, has catapulted the flock back into top spot in this year's competition.
The Suffolk flock consists of 30 ewes and shearlings which are served by natural service and AI using semen from top class tups. The best ram lambs are kept to serve the 750 mule ewes in the College's commercial flock, which lambs in early March. Due to particularly fast growth, the first lambs are sold off their mothers by the end of May – with most of the remainder finished off grass over the summer.
"The advantage of having both flocks here is that the students can see the whole process, from the production and selection of high quality rams for breeding, through to the slaughter of the meat lambs they have sired in the commercial flock," says Mr Bird.
"I rely heavily on figures such as Estimated Breeding Values (EBVs) when selecting rams – be it to serve the pedigree sheep or the mules. This means we are making decisions based on actual facts."
Mr Bird says his two main aims are to produce lambs that grow fast –because the sooner they are ready to sell, the more likely they are to catch the high early season prices. He also wants to get the best finish possible, so that they grade well and maximise the financial returns. He takes particular notice of EBVs for growth rate and carcase characteristics such as muscle depth.
"There is no doubt that Perrinpit Boy Wonder has won us the award this year. Nine of the lambs he sired this January have indices of £4 or more. We will be using his lot more in the future."

Benefits too big to ignore
"Buying rams with known, superior EBVs allows producers to correct any weak areas and significantly enhance flock performance, over a short period of time," says EBLEX sheep breeding specialist Samuel Boon. "The progress made within the Myerscough flock is living proof of this, and goes to show that the benefits of using better genetics are just too big to ignore.
"I congratulate Wilson for the valuable work he is doing with the Suffolk breed. By focussing on traits that really matter, he is improving the college flocks, and making it easier his commercial customers to find a ram they know will have a positive impact on their enterprise."

New Chief Executive for Suffolk Sheep Society


Brecknock Hill Cheviot Ram Sale at Sennybridge 2008


Hullhouse & Beautry Texels Sparkle