Brecknock Hill Cheviot Ram Sale at Sennybridge
06/10/08
Some sparkling prices and a good level trade distinguished the Brecknock Hill Cheviot Ram Sale at Sennybridge on Saturday 27 September.
Marcus Sherreard of Marks and Spencer presents Janet Watkins Brecknock Hill Cheviot Marketing administrator for the past 6 years with a Border Fine Art Hereford Family. It was a gift from the Marketing Company in recognition of her dedication to the company.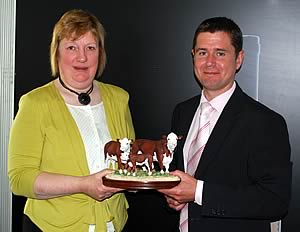 A top price of 2,800 guineas and an average of over £500 for yearling rams left vendors in good cheer. They are more confident than ever of the role of their breed in producing the popular white face Mule and in their marketing strategy which has placed their lamb in Marks and Spencer stores throughout England.
Auctioneer Peter Francis said: "It was a good level trade with some high prices. It was very pleasing to see a lot of people there from Mid and North Wales.
"The white faced ewe in general is becoming increasingly popular especially for its role in producing the white faced mule ewe, which many would argue has superior conformation".
Brecknock Hill Cheviot Marketing chair Lynwen Morgan who with her husband Ken paid the highest price of 2,800 guineas to Mr and Mrs Phil Davies of Tir Mawr Farm, Sennybridge, was delighted.
She said:"It's good to see the welsh white face Mule becoming so popular and the hardiness and prolific ewe qualities of Brecknock Hill Cheviot spreading across Wales and now getting established in Denbigh.
"Our marketing strategy is also paying off. We are going into our eighth season selling into Marks and Spencer stores across England. The clean, green appeal of Welsh produced lamb is very successful, as is the fact that the carbon footprint is low with the lambs slaughtered locally at Cig Calon Gymru in Cross Hands".
Top prices included the 2,800 guineas achieved by Phil and Marjorie Davies of Tir Mawr Farm, Sennybridge. They also had the highest average of the day, selling eleven rams for an average £1,302.25.
The second highest price of was achieved by J C & D Jones, Belfont, Trecastle, and the third highest by Phil and Marjorie Davies.
The champion ram was sold by Colin P Phillips of Cefn Fedw Fawr Farm, Sennybridge, to Glyn Thomas, Maesgwastad, Llanddeusant, for 2,000 guineas.
The sale of 240 yearling rams averaged £514.89 with 7 Rams achieving over 2000 guineas and 18 rams over two year old averaged £319.83.

Hullhouse & Beautry Texels Sparkle


Bluefaced Leicester Ram Sells for 17,000 Guineas


Plan Store Lamb Finishing to Minimise Late Marketings