Bluefaced Leicester Ram Sells for 17,000 Guineas
22/09/08
The credit crunch clearly wasn't an issue for buyers at this year's second main NSA Wales and Border Ram Sale, with a Bluefaced Leicester ram selling for an all time record seventeen thousand guineas.
Brenda & Dewi Williams with their 17,000 guinea ram.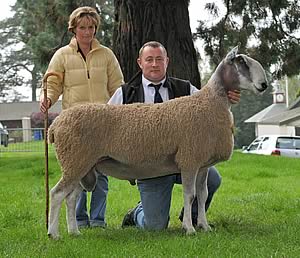 The price was ten thousand guineas more than the previous record for a Charollais nearly ten years ago and eclipsed the day's other top prices. It was also more than sixteen thousand guineas up on last year's top Blue Faced Leicester price! The ram was sold by Dewi Williams of Bryn Dansi, Dolwen, Abergele to the nearby village of Llanddulas where Jackie McCleod had 'fallen in love' with him at the Royal Welsh Show.
The next highest price was three thousand guineas paid for a Welsh Mountain ram in a day distinguished by some sparkle and generally healthy averages, given the dry weather that forced many buyers to stay home and harvest. Two Texel rams topped the breed trade and were the next highest priced at 2,000 guineas each, one thousand four hundred and twenty guineas up on last year.
There was a 78 percent clearance with 1,688 rams sold and an average price of £290. Many of the breed top prices and averages were well up on last year. A total £490,483.22 changed hands. The total grossed over the two main sales (September 15 and 20) amounted to nearly one and a half million pounds with 4,163 sheep sold and at an average £342.60.
NSA Wales and Border Ram Sale Committee Chairman George Hughes said: "Clearly we have had a successful sale once again. Quality has commanded the high prices and there is evidently renewed confidence in the sheep industry in Wales".
A clearly delighted Jackie McLeod of Nanty y Glyd, Llanddulas, Abergele, put in some determined bidding against fierce competition from Scotland to win her Blue Faced Leicester. She had coveted the ram since being asked to look after him on the breed stand at the Royal Welsh Show – and she had no qualms about the huge price paid.
"I'm as anxious as anyone about the credit crunch", she conceded. "But at least with sheep farming you have something real that people want.
"He's a good investment and I'd rather that my money was invested in him than in stocks and shares!"
The Welsh Mountain ram was sold for three thousand guineas to Brian Davies of Tycanol, Llangynidr, Crickhowell, by Alan and Mari Jones of Rhysgog, Llanafan, Builth Wells.
A Texel ram lamb was sold by John Eirian and Lynwen Davies to Celbyn Edwards for two thousand guineas. It was the second year running that the couple who live at Llwyn Yr Ynn, Capel Isaf, Llandeilo, had topped the breed ram lamb trade at the sale, and the lamb is a full brother to the ram that sold for 900 guineas at the same event in 2006.
Buyer Celbyn Edwards of Bryn Rodyn, Llangaffo, Anglesey, said he always followed his instinct. He had simply 'liked the stylishness' of the ram.
A second Texel was sold by Martin and Shirley Jones of Lower Forestry Farm, The Racecourse, Oswestry, for 2,000 guineas to Colin and Wendy Phillips of Weobley, Hereford. The couple have been selling Texels at the NSA Wales and Border Sale for at least twelve years and have frequently achieved the top price.
Other top prices included 1450 guineas for a Blue Faced Leicester ram lamb. The highest priced Lleyn was sold by Emrys and Dylan Jones of Lluest Wen, Commins Coch, Macynlleth, for 1400 guineas. The breed champion from Alun Wynne Davies Bronallt, Morfa Nefyn, Pwllhelli, made 850 guineas.
One thousand and fifty guineas was paid for a South Country Cheviot ram and a thousand guineas for a North Country Cheviot. The highest priced Badger Face, a Torwen ewe, was sold by Timothy Evans of Glyn Rhosyn, Penbryn, Lampeter, for 900 guineas to Jenny Langford of Whitehead Farm, Tattenhall, near Chester. Mr Evans has been keeping them since his parents bought him some as an eighteenth birthday present and has old bloodlines which Mrs Langford wanted to introduce to her 800 ewe flock.
The Border Leicester Reserve Champion bred by Richard and Olwen Wynne of Cynefin, Pengraigwen, Llanerchymedd, Anglesey, was sold for 650 guineas to Richard Richards, The Park Farm, Craswall, Malvern. The highest priced Charmoise sold for 460 guineas.

Plan Store Lamb Finishing to Minimise Late Marketings


Strong Demand for Builth Wells Rams


Lazonby Sales Centre Set for Busy Autumn Trading