New Dealership Lands Valuable McCormick Tractor Franchise
09/10/08
It's rare for a newly set-up machinery dealer to be awarded a mainline tractor franchise but Lee and Richard Dovey have convinced McCormick bosses that they've got what it takes to support customers of the top-selling tractor marque.
Lee (left) and Richard Dovey are confident that when people see what they and the McCormick range have to offer they will be given a fair chance to supply new tractors to farms and other rural businesses in the area.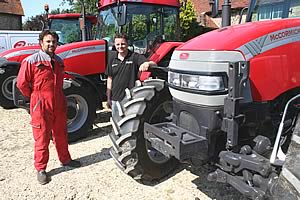 "They've certainly got enough energy and enthusiasm to make a success of this new venture," says Steve Cann, McCormick area manager for the south of England. "And we'll be doing everything we can to support their efforts to win new customers to the McCormick range."

When Lee and Richard formed Dovey Ltd a year ago at the family farm near Beaulieu, Hampshire, they set about finding a tractor range to sell by visiting the Agritechnica show in Germany last November.

"The McCormick stand with its impressive display of red and silver tractors really stood out and it dawned on us that no-one in our area was selling and servicing them," explains Lee. "We approached McCormick and had to overcome some scepticism that we're up to the job. The fact that we supplied two tractors within weeks of being appointed shows that we are!"

Although supplying tractors is something of a new venture, the cousins are certainly not lacking in experience when it comes to maintenance and repairs.

For the past five years, Richard has operated RAD Engineering Ltd, a company also based at Culverley Farm providing fabrication services and plant and tractor hire. Lee spent 18 years employed as a service technician with a local farm machinery dealer before leaving to set up their new venture.

Despite a generous trading area that extends from Southampton to Weymouth and from Shaftesbury to Salisbury, Richard and Lee acknowledge that with no established population of McCormick tractors in the locality, winning new customers will not be easy.

"It will take time but I'm sure that when farmers and other tractor users in the area see what McCormick and Dovey have to offer as a partnership, they'll give us a fair chance," says Lee.

A major factor to their advantage is a range of tractors that matches the diversity of rural businesses in the area. McCormick's compact and utility tractors will suit the many smallholdings, equestrian enterprises and facilities needing grounds care power units; there are specialist models for fruit growers; and several ranges of mid- to top-end farm tractors for arable and grassland farming.

Tractors supplied so far include an 82hp C85 Max, which has gone to a local contractor, and an MC115 medium-size farm tractor of 115hp delivered to a cereal and fruit grower. Both are equipped with McCormick loaders.

"We also have examples of these tractors in stock and for demonstration, along with a 102hp CX105, which is McCormick's best-selling individual model," says Richard Dovey. "Needless to say, we've also switched to McCormick for our hire tractors; farmers who've hired the MC115 and the 171/198hp XTX185 heavy arable tractor have returned them impressed with the features and performance."

Dovey's trading area for McCormick borders those of G A Vowles (Dorset and south Somerset), Uphill & Son (north Somerset and Avon), PJS Services (Berkshire, Wiltshire) and Michael Garwood (south Hants, north Surrey).

Landini Dealers Enjoy a Day at the Races


Along the Straight and Narrow - British National Ploughing Championships 2008


Case IH Tractor Innovations Save Money