19/10/08
Bigger – and better – that's the aim of the organisers of Borderway's second Agri-Expo event at the end of October.
Isobel Hartley from Roughlee, Gisburn won best young handler in the sheep section at Borderway Agri Expo 2007.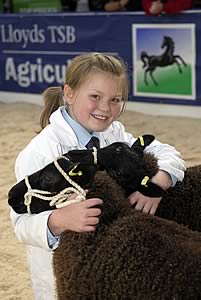 Last year's inaugural event was acclaimed a resounding success and the show planned for Friday October 31 has been gaining huge support from across the board – from trade stand and livestock exhibitors as well as sponsors.
Penrith and the Border MP David Maclean has agreed to officiate this year. On offer is a total prize fund of £7,000 and this year's event will also be hosting an English National Aberdeen Angus Calf Show, which is open to all members of the Aberdeen Angus Cattle Society, as well as, another new event, the Border British Blue Calf Show.
A novel feature will be a bucking bronco competition to involve representatives from the various breed societies. Among the trade stand exhibits will be a feeder wagon demonstration.
"This year we have planned a number of new features and the number of shows that are being organised involving around 300 head of cattle and 80 pens of sheep means that there will be judging in four designated rings virtually simultaneously, ensuring plenty for everyone to see," said organiser Harrison & Hetherington's operations director and event co-ordinator David Pritchard.
"Once again we have the support and enthusiasm of everyone from exhibitors to companies and organisations providing trade stands which all contribute to it being a successful event.
"We are also pleased to have the support of our main line sponsors, Carrs Billington, Farmers Guardian, Norbrook Laboratories (GB) and LTS (Livestock Technology Solutions)," he added.
"We're delighted that David Maclean has agreed to attend proceedings at Agri-Expo 2008 and his presence will help raise the profile of this year's event. David is well known and respected within farming circles and his involvement will prove a popular addition to our already highly successful format.
"Agri-Expo is set to further grow. We have established a unique event and anticipate Agri-Expo will again attract the finest UK cattle and sheep," he says.
The event features a national suckled calf and primestock show which has attracted a total of 165 head of cattle divided into 14 classes of continental and native steers and heifers.
Around 80 pairs of lambs are expected to compete in the prime sheep show. There are classes for continental and native breeds.
Cattle judge is well known showman John Peckitt from Thirsk while the sheep judge is Paul Barker, of Woodhead Bros, Colne.
The Aberdeen Angus Society has also arranged for the day a youth development programme to enable Aberdeen Angus Young Members to participate.
Another new event, the Border British Blue calf show has attracted 45 entries and is being judged by club president and society council member, Brian Wheatley, Home Farm, Inglewood, Penrith.
As well as class awards for individual animals and a progeny group, the overall champion will receive the David Dickinson Memorial Trophy.
The reserve champion calf will be awarded the BK Ryder Memorial Perpetual Trophy. There will also be a prize for the best animal opposite sex to the champion as well as the Bellas Perpetual Trophy and special rosette. The breeder with the most points will be awarded a trophy from Norbreck Genetics.
Among a number of new features includes the Aberdeen Angus English National Calf show, open to all members of the Aberdeen Angus cattle Society. A total of 45 entries will be judged by well known Irishman, Victor Wallace.
The supreme champion animal has the opportunity to win a cash prize of £1,000 and the reserve champion £500 in cash.
The society is also planning to hold a youth development programme for young Aberdeen Angus breeders.
The Cumbria Federation of Young Farmers Clubs will be staging the Stockman of the Year competition. Invitations are extended to young farmers clubs in Northumberland, Cumbria and South West Scotland to judge beef, sheep, dairy cows, chickens and trout before tackling an animal health questionnaire where points from all sections will be added up and the young farmer member with the highest score will be named Stockman of the Year 2008.
Four major local machinery suppliers will be staging working demonstrations of feeder wagons and straw choppers also on display will be 4x4 wheel drive vehicles dealerships. A food fair supported by local producers will provide a taste of Cumbria.
Following on from the success of last year's Agri Expo auctioneering competition, this year's challenge will be a competition for breed societies to test their skills on a bucking bronco (Cumberland bull rodeo ride) and in addition there will also be an open competition.
The event is open to everyone with free admittance but donations to worthy charities will be most welcome. This year the event is supporting two charities, The Great North Air Ambulance and Breast Cancer Campaign.
In the afternoon prior to the presentation of awards, a charity auction will be held in support of these charities.

Farm Stay Silver Jubilee Appeal to Former Members


Roll Up to Countryside Live for the Best in Rural Life


TFA Autumn Road Show Gets Underway