07/10/08
Beef producers could scoop up to £3000 in addition to auction revenue for the champion beef carcass at this year's inaugural English Winter Fair at Stafford (Nov 15-16) thanks to sponsorship from leading abattoir group Anglo Beef Processors (ABP).
Beef producers could scoop up to £3000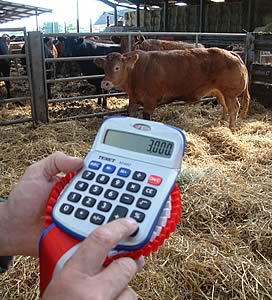 The competition is open to any farm assured stock subject to relevant age limits and cattle will be handled at ABP's specialist plant at Shrewsbury. Entries for the event close on October 15, 2008.

Richard Cracknell, Managing Director of ABP, says the competition will champion the growing number of beef producers providing what the market wants. "Every day in our seven UK abattoirs, ABP sees more beef cattle produced to the specification the market needs, but this percentage could be increased without very much extra effort on the farm.

"One way of achieving this is for farmers to see what is being produced by the top percentile of commercial beef producers at the Winter Fair which we are delighted to be supporting.

"Beef is becoming ever more expensive for the consumer and we need to ensure that the eating experience matches their expectations."

The competition offers producers a win-win opportunity, suggests Richard Williams, chief executive of the Staffordshire & Birmingham Agricultural Society - organisers of the English Winter Fair. "ABP's backing means the £3000 prize fund gives this competition the potential to be the most prestigious in the winter show calendar.

In addition to an initial class prize of £200, leading beef processor ABP is awarding £1500 to the overall carcass champion and a further £1000 if the animal is home-bred. A final award - bring the champion's total fund up to a potential £3000 - sees £300 offered from breed societies if the champion carcass is sired by a registered pedigree British Blue, Charolais or Limousin bull.

Entries for this prestigious competition, that ABP hopes may attract up to 300 carcasses, must be received by Kate Tomlinson, English Winter Fair show secretary, by Oct 15, 2008 (entry forms can be downloaded from the web page.

The Herculean task of judging carcasses dressed to EU specification has been handed to Ashbourne, Derbyshire-based butcher Nigel Brown: "I've been a town butcher for 35 years and like to source cattle of a handy size, not heavy boned and not too much fat cover," he says.

All first to third placed carcasses from each class and the champions will be moved to the English Winter Fair's purpose built, permanent, on-site Carcass Hall at Stafford County Showground for the event on the weekend of November 15-16, 2008.

Prize winning carcasses will be offered for sale by Bagshaw auctioneers on Sunday November 16 adding to producers' returns, explains Mr Williams. "In addition to the prize fund ABP has undertaken to purchase all the non-prize carcasses based on MLC-published figures giving all producers who enter the competition a guaranteed return," adds Mr Williams.
English Winter Fair
Special two-for-one offer on entry for adults!


download voucher here

(170k)

Cattle Handling Clinics at English Winter Fair


Walkabout GPs to Give Farmers Free Health Check


Opening the Doors to Careers in the Countryside