Big Demand for Quality Bloodlines at Ronick Limousin Sale
12/08/08
Westerton Farm, Cowie, Stirlingshire was the venue for the on-farm sale from the long established and highly regarded Ronick Limousin Herd of David and Ronald Dick. The sale also featured a guest consignment from the noted Lodge herd of Ian and Wendy Callion, Bolfornought Farm, Stirling.
The day's highest price of 12,000gns was paid
for the calved heifer Ronick Ardtalla.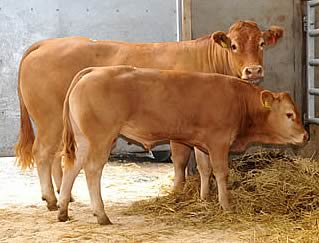 On offer was a breadth of young, first and second calving cows sold along with a selection of in-calf and maiden heifers. The herds' reputation for outstanding breeding females, built around renowned and quality bloodlines, ensured a bumper crowd that saw buyers stretch from Devon to Aberdeenshire. In a 'who's who' of Limousin breeding the sale featured well known family lines including the renowned Broadmeadows Ainsi, Hampton Maria, and the Rive family which included, amongst others, the famous mother and daughter combo, Ronick Danita and Ronick Janita.
From the word go, the sale, conducted by auctioneers Harrison & Hetherington, met with a tremendous demand from eager buyers with many established breeders competing with a host of new faces looking to purchase cattle for foundation herds. At the end of the day, 117 lots were sold, with a top price of 12,000gns leading the way. Two animals in all made five figures with twenty five, across the two herds, making 4,000gns or more. Ninety nine lots sold in the Ronick sale to gross a mighty £295,199 whilst eighteen lots in the Lodge sold grossed an excellent £46,409. Leading the section averages was the forty four Ronick cows offered that averaged £3223.98.
The day's highest price of 12,000gns was paid for the calved heifer Ronick Ardtalla. A March 2005 embryo calf, Ardtalla is by the Tarvis son Ronick Iceman and is out of Ronick Nicer. This animal combined the bloodlines of Broadmeadows Ainsi and Ronick Beauty with her mother, Ronick Nicer, being a previous winner of the Royal Highland Junior Interbreed in 2005. Attracted to the quality of the animals, and the depth of bloodlines on offer, were prolific Limousin purchasers Smiths of Bloxham, Bloxham, Banbury, Oxford. As well as the top priced animal, six of the day's top seven prices in the Ronick Herd, were bought for the Smiths of Bloxham Ironstone Herd and twelve lots in all.
Later in the Ronick catalogue, the stock bull Lodge Vilamoura which was originally purchased from breeders Ian and Wendy Callion, was sold for the day's second top price of 11,000gns. This four year old bull is by the Talent son Ronick Gains and is out of the Ronick Luke daughter Lodge Norinha. This bull had previously won the Marks and Spencer Beefbreeder title at the Royal Highland in 2005 and a number of his progeny were on display within the sale catalogue. The purchaser was JS & LD Adam from Lochgilphead, Argyll for their growing Garraron pedigree herd.
Leading the served heifers was the Ronick Janita daughter Ronick Beau who sold for 8,000gns to Smiths of Bloxham. Ronick Janita is the much decorated show cow that goes back to Ronick Danita and the herd's foundation cow, Rive. Ronick Beau is by the Marron son Bailea Olympia who the Dicks purchased for 14,000gns at Carlisle in 2000. Olympia, who featured in many of the day's top prices, is out of Bailea Izbicki, a daughter of the noted Greensons Gigolo.
At 7,000gns was the four year old Ronick Vamba who was sold with her seven month old heifer calf Ronick Damsel, by French bull Valmy, at foot. Ronick Vamba is by the renowned Ronick Hawk, the most prolific bull in the British Limousin herdbook, and is out of the Ronick Gains sired Ronick Samba. Purchasers were again Smiths of Bloxham.
The day's second top priced maiden heifer was Ronick Colorado who made 6200gns when joining the Smith's Ironstone herd. This April 2007 born heifer is a Bailea Olympia daughter and is out of the fifteen year old Daranside Idaho whose pedigree features Talent and Uplands Viola.
Ronick Bobbin, a served heifer born in January 2006, made 6000gns in becoming another of Smiths of Bloxham's acquisitions. This heifer is by Fieldson Topaz a Gunnerfleet Plunas son purchased for 8000gns at Carlisle in May 2004. She is out of Ronick Spinnie who is by Bailea Olympia and out of Ronick Innie.
Bailea Olympia was again the sire when Ronick Bionic sold for 5500gns to Smiths of Bloxham. An April 2006 born served heifer, Bionic is out of Rhoswen Rio who is by the noted Jockey and is out of the French bred Giroflee. Rhoswen Rio had earlier been the first lot offered at the sale and sold for 3000gns with her calf making 1600gns.
Early in the catalogue, Ronick Vorinocco sold for 4800gns to Derbyshire based purchasers J Bonsall, Bryn Farm, Atlow, Ashbourne. Another daughter of Bailea Olympia, Vanda is by the Ronick Idol sired Ronick Laura who is a half sister to Ronick Hawk. Ronick Vanda was sold with her December 2007 born Valmy sired heifer calf at foot, and was announced as pd'd in calf to Ronick Gains.
Pedigree breeder DJ McKerrow, Nochnary Farm, Freuchie, Cupar, Fife snapped up Ronick Universally for 4800gns to join his Nochnary herd. A December 2003 born cow, Ronick Universally is by Bailea Olympia and is out of Ronick Ninkley. Again full of breeding, Ronick Ninkley's grand dam, Ronick Inkley, is a Broadmeadows Ainsi daughter and a full sister to both Ronick Iceman and Ronick Idol. Universally was sold with her January 2008 born Valmy sired bull calf, Ronick Diplomacy, at foot.
The famous Broadmeadows Cannon was the sire of Ronick Ulola who sold for 4600 to the Myfyrian herd of MC Roberts who had come all the way from Myfyrian Isaf, Gaerwen, Anglesey. This November 2003 born cow is out of the Talent sired Daranside Lola and was sold with her Bailea Olympia sired heifer calf, Ronick Dulola, at foot. Smiths of Bloxham were back in action when purchasing Ronick Burberry for 4500gns. This April 2006 born served heifer is by the homebred Ronick Rascard, a Lascard son out of Ronick Janita, who has had progeny sell up to 8000gns. Burberry is out of the Bailea Olympia sired Ronick Urena.
Harry Emslie Farms Ltd, Brae of Coynach, Mintlaw, Peterhead, Aberdeenshire paid 4500gns for the stylish Ronick Caboodle. An April 2007 born heifer, Caboodle is by Ronick Shapely who was sold to the Newhouse herd for 8,800gns at Carlisle in 2002. Shapely is a son Ronick Hainsi a full sister to Ronick Gains and Ronick McAinsi. Ronick Caboodle's dam is the Ronick Riogrande daughter Ronick Uppy.
Ian and Wendy Callion also offered a quality selection in what was their second production sale from the Lodge Herd. The Lodge herd was founded in 1981 and, through the family connection, has an influence in its foundation, with many of the Ronick bloodlines. Their top price, and the day's to priced maiden heifer, was the 7000gns paid for Lodge Champagne. An August born heifer, Lodge Champagne is by the muscly French AI bull Vivaldi whose pedigree features both Domino and Jacot. Champagne is out of the Ronick Luke sired Lodge Pimms who goes back to Lodge Ifum and Ronick Fumby, one of the herd's foremost breeding lines. Purchasing this maiden heifer was the growing an noted Netherhall pedigree herd of D&M Kelly, Nether Hall Farm Ltd, Nether Hall, Mansergh, Kirkby Lonsdale, Carnforth.
Some of the same breeding featured in the pedigree of Lodge Campari who was purchased for 4200gns by JM Nisbett, Sorn Mains Farm, Mauchline, Ayrshire. Lodge Campari, July 2007 born, is by the Ronick Rascard son Ronick Urinocco and is out of the Ronick Idol sired Lodge Tequila whose grand dam is Lodge Pimms. The same purchaser paid 4000gns, again for connected breeding, for Lodge Chiffon. Chiffon is August 2007 born and is by Ronick Urinocco out of Lodge Ifum. Lodge Ifum is out of the previously noted Ronick Fumby.
Ronick herd averages
44 cows served and/or suckling £3,223.98
25 served heifers £2,931.60
28 maiden heifers £2,322.86
2 stock bulls £7,507.50
Lodge herd averages
4 served heifers £2,441.25
9 maiden heifers £2,975.00
5 young bulls £1,974.00
Auctioneers: Harrison & Hetherington

Keep Beef Breeding Cows for Change in Fortune


New Charolais Sire Selected for YBPS


Balmachie Triumphs in National Aberdeen-Angus Show